Making the Future of Geography: Sussex Geography Debates
Spring term, 2012
Geography was one of the first disciplines to be established at Sussex[i] and embraced the interdisciplinarity of approach that remains the hallmark of the University's research and teaching. Until 2003, Geography was taught in five Schools across campus, with its faculty and students interacting with a wide range of other disciplines in the sciences, social sciences and arts and humanities on a daily basis. Since 2009, it sits at the heart of a new School of Global Studies, unique in the UK in bringing together the academic disciplines of geography, anthropology and international relations, as well as the field of international development.
Over the past 50 years, Sussex-educated geographers have gone on to leading roles not only in the discipline of geography, but in a number of cognate disciplines in the UK and around the world. This has spanned human and physical geography, theory and practice, and both quantitative and qualitative approaches.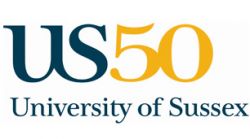 As both the University of Sussex and Sussex geography approached their 50th year, we reflected on this legacy, but also looked to the future by bringing back seventeen alumni who had gone on to make a substantial academic contribution either within or beyond the discipline, to participate in a series of debates on the contribution of geography to interdisciplinary understanding, and of an interdisciplinary approach to geography. Each invitee was asked to speak about own their area of specialism for 15 minutes, as a prelude to a discussion moderated by senior current Sussex faculty.
The series ask about the skills and perspectives that a geographical approach brings to the social and natural sciences, and how geography is enriched by interdisciplinary engagement and discussed how Sussex geography should build on its past in its new home in 'global studies'?
The weekly debates took place every Tuesday in the Spring term of the University's 50th anniversary year. We may also seek to bring selected papers together in an edited collection to be published in time for the 50th anniversary of Sussex geography in 2013.
---