Welcome
As the co-hosts of the 2018 BAFA Accounting Education Special Interest Group Conference, we would like to warmly invite you to join us on 2-4 May 2018 at the Hilton Metropole in Brighton.
Brighton is on the beautiful Sussex coast, 50 miles south of London. There are fast and frequent trains between Brighton and London, and London Gatwick Airport is only thirty minutes away by train.
The conference is designed to provide:
a setting for discussions of research into innovations in accounting education amongst a range of other topics in the area of accounting education;
a forum for presenting emerging ideas and full papers;
workshops at which researchers can develop ideas for research projects or discuss current work and ideas;
opportunities for accounting educators to identify partners (or institutions) for collaborative research;
a network of continuing support amongst attendees.
We welcome papers on any area of accounting education and will announce the conference programme nearer the time.
Alan Sangster and Susan Smith
University of Sussex
---
BAFA Accounting Education Special Interest Group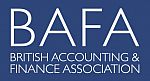 The aim of the Accounting Education SIG, which was established in 1991, is to enhance the educational base of accounting practice. This embraces a concern for better teaching and learning involving a range of areas including: the introduction of innovative pedagogic ideas; curriculum development; better assessment; improving links with accounting bodies; and greater awareness of best practice and new developments. The group currently has over 160 members.
The Accounting Education SIG sponsors the best paper prize for Accounting Education: an international journal.
---
Registration
How and where to register
Buying a ticket registers you for this event. To purchase a ticket, log in to your account on the BAFA Membership Portal and click the 'Purchase Tickets' button. This will be available from 1 February 2018. Select the appropriate ticket for the event you want to attend, and follow instructions. If you are not already a member of BAFA, please sign up for membership. Further information on how to register for BAFA events can be found on the Conference FAQs page.
BAFA annual membership rates
Academic staff: £30
Unsalaried PhD/MPhil student or retired academic: £15
When to register
Early bird: 1 February 2018-15 March 2018
Registration: 16 March 2018-27 April 2018
Conference fees
OPTION 1: FULL CONFERENCE RATE
Includes refreshments and lunch each day, and the conference dinner on the evening of Thursday 3 May at Hilton Brighton Metropole
Early bird: £250
After 15 March: £280
OPTION 2: DAY DELEGATE RATES
Includes refreshments and lunch
Wednesday 2 May (lunch followed by afternoon sessions)
Early bird: £60
After 15 March: £70
Thursday 3 May (all day)
Early bird: £120
After 15 March: £130
Conference Dinner
Early bird: £45
After 15 March: £50
Friday 4 May (morning sessions followed by lunch)
Early bird: £60
After 15 March: £70
OPTION 3: FULL-TIME PHD STUDENTS
Includes refreshments and lunch each day, and the conference dinner on the evening of Thursday 3 May at Hilton Brighton Metropole
Early bird: £150
After 15 March: £180
Subsidised rates
A limited number of additional subsidised places (up to 50% of the conference fee) are available for individuals who meet all of the following criteria:
Are new to accounting education research
Have not published in a refereed journal
Have not attended the BAFA AE SIG conference previously
Are willing to present a full or emerging ideas paper at the 2018 conference
Anyone wishing to apply for a subsidised place should pay using option 1 and make an application for a refund to the conference organiser (aesig2018@sussex.ac.uk) before 15 March 2018.
Payment and cancellation policy
Due to the commitment made to the conference venue we are only able to refund half of the conference cost if cancellation is made before 15 April 2018. Cancellation after this date will not be refunded but delegate substitution will be available. In this case, details of the substitute must be emailed to the conference organiser (aesig2018@sussex.ac.uk)
---
Sponsors
We are grateful to the following sponsors for their support:
---
Contact
Please email any queries to aesig2018@sussex.ac.uk