Joseph's story
Joseph Newcombe graduated from Sussex with an undergraduate degree in Chemistry, he is now training to become a patent attorney. Joseph spoke to us about his time at Sussex and how his degree put him on the path to his chosen career.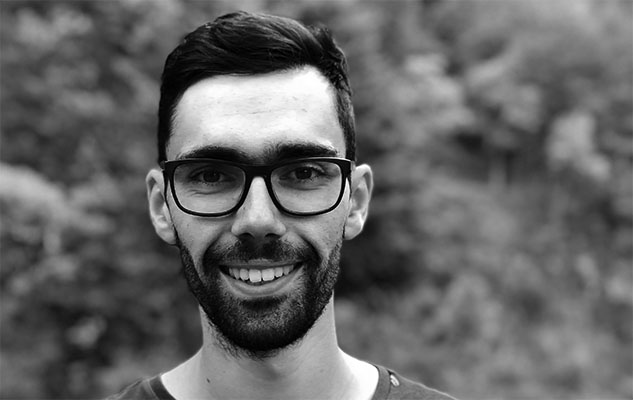 ---
How chemistry helped Joseph's career in intellectual property
Joseph Newcombe is training to become a patent attorney. The job will include working on obtaining protection over the intellectual property of chemical inventions.
What made you choose chemistry at Sussex?
"I had decided that I wanted to study chemistry before I had chosen a university that I wanted to go to. I found the subject matter the most interesting of those that I was studying for A-levels.
"When I was looking to choose which universities I wanted to apply to, the University of Sussex was ranked number one in the UK for the teaching on its chemistry course. I actually came to visit on a day which wasn't an official open day and was struck by how willing the staff were to sit down with me and discuss the course and various degree programs which operated in the department.
"I also got a great feeling from visiting Brighton and after that visit knew that Sussex would be my number one choice. Other things that attracted me to the University of Sussex were the beautiful surrondings of the campus and the relatively small size of the department."
What was your standout memory of your time on the course?
"Meeting the late Sir Harry Kroto on the results day for the fourth year of the Masters course. One of the lecturers in particular had maintained a good relationship with him even though he had left Sussex long before and had invited him along. It was a great honour to meet a Nobel Laureate who won their prize for work carried out in the very same department I had been studying in."
What were you proudest of?
"The many friends that I met at the University of Sussex and specifically within my chemistry cohort with whom I am still in close contact with today."
What experiments/modules were your favourite?
"My favourite taught modules were probably the organic chemistry modules. I always enjoyed the puzzles that they presented in unpicking retrosyntheses and learning the toolkit of reactions that could be used to synthesise all manner of interesting compounds.
"However, my outright favourite module was my Masters research project. I carried this out in a medicinal chemistry lab and found great satisfaction in getting to grips with the project and starting to try and drive my own research rather than following set experimental procedures."
What are you doing now?
"After finishing my degree at Sussex I went on to do a PhD at UCL, Birkbeck College and the Crick Institute which was a blend of synthetic chemistry, computational biology (modelling of protein structures and their interactions with small molecules) and biophysics (measuring physical properties of proteins).
"Having finished my PhD in 2018 I am now training to become a patent attorney, largely working on obtaining protection over the intellectual property for chemical inventions which can include anything from new chemical conpounds for use as drugs, their formulations and syntheses, methods of making polymers, materials with specific effects and many more."
How did your degree at Sussex help you in your career?
"The chemistry course at Sussex taught me all the core skills that I needed for my chosen career path. In particular I think that the relatively small cohort made it easy to ask questions be that in lectures, tutorials or even outside of contact hours knocking on lecturer's doors and having a conversation. Everyone was always very approachable and I think that made me more inquisitive.
"Also the fact that the majority of students were on good terms with the lecturers opened up the opportunity to work in the research labs over summer holidays, which (bursary/research grant dependent) could also earn a little extra cash.
"For me the summers of research really helped cement the learning throughout the year and further my practical skills and also soft skills, like submitting research proposals, presenting the outcomes of experiments, etc."
---
---
You might also be interested in: