Hester's story
Hester Beard graduated from Sussex with an undergraduate degree in Chemistry, she is now a post-doctoral researcher. Hester spoke to us about her time at Sussex and how her degree helped inspire her for a career in academia.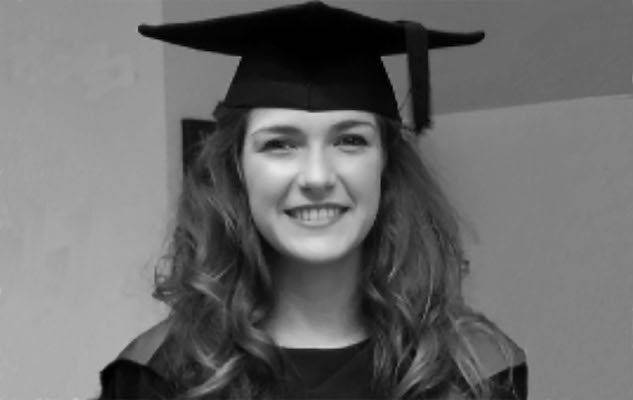 ---
How chemistry helped Hester's career in research
Hester Beard is a post-doctoral researcher at Katholieke Universiteit Leuven. Her job includes working with Alzheimer's drugs to understand how they bind to their target proteins.
What made you choose chemistry at Sussex?
"The small class sizes and low student-to-staff ratio really drew me to the Chemistry course at Sussex. This turned out to be a great advantage when it came to asking for help with course material and assignments.
"I was also intrigued by the thought of living in Brighton, which I personally think is one of the best cities to live in as a student."
What was your standout memory of your time on the course?
"I really enjoyed the social events that were organised by the C60 ChemSoc society, which allowed you to get to know your fellow undergraduate students outside of the course."
What were you proudest of?
"I was most proud of the work that I carried out in my Master's year at the Sussex Drug Discovery Centre, where I synthesised anticancer agents targeting DNA repair enzymes. I then had the opportunity to present my work to my colleagues at the end of the year."
What experiments/modules were your favourite?
"My favourite modules were Medicinal Chemistry, Bio-organic Chemistry, Organic Reaction Mechanisms and Organometallic Chemistry (particularly the practical sessions in the teaching labs)."
What are you doing now?
"I am currently working as a post-doctoral researcher at the Katholieke Universiteit Leuven (Belgium) looking at understanding how Alzheimer's drugs bind to their target proteins using chemical probes."
How did your degree at Sussex help you in your career?
"The Chemistry course at Sussex gave me many great opportunities to gain practical experience such as a paid summer placement in the Sussex Drug Discovery Centre and an industrial placement in the Medicinal Chemistry labs at the pharmaceutical company Novartis. This experience helped me gain my PhD position which was essential for continuing an academic career."
---
---
You might also be interested in: