Charlotte's story
Charlotte Averre graduated from Sussex with an undergraduate degree in Chemistry and then went on to study a PGCE. She is now head of chemistry at an international school in Egypt. Charlotte spoke to us about her time at Sussex and how her degree put her on the path to her chosen career.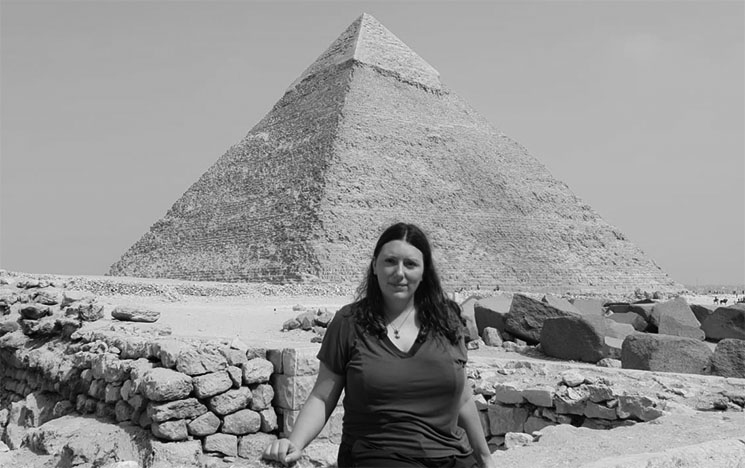 ---
How chemistry helped Charlotte's career in education
Charlotte Averre studied the four year MChem in Chemistry and is now head of chemistry at an international school in Egypt.
What made you choose chemistry at Sussex?
"I chose Sussex for three main reasons: firstly, it offered the four-year Master's degree, which seemed like a great option for me. Secondly, Sussex was one of the only universities to offer a forensic science option with the Chemistry with Forensic Science programme. This was something I was very interested in, as I had been advised by an expert to look for courses that were predominately Chemistry based in order to keep my options open. Thirdly, it felt like the right fit. When I came to visit on an Open Day I felt an instant connection to both the campus and the city and I could really picture myself spending four years there. In the end, I actually spent five years at Sussex (I did my PGCE there) and eight in Brighton and Hove."
What was your standout memory of your time on the course?
"My standout memory of my time on the Chemistry course is of standing in one of the small wooded areas on campus, dressed in a CSI suit, searching for a 'burial site' using the skills studied as part of one of the Forensic Science modules. This is just one example of the way that the Chemistry courses at Sussex are designed to allow you to apply the techniques that you learn to a practical situation."
What were you proudest of?
"My proudest moment was definitely completing the Chemistry Advanced Project in year four of my Master's degree, which involved looking at developing new triphosphane ligands and investigating their chemistry. This was the result of several months of hard work, perseverance and collaboration with my supervisor, as well as other members of the Chemistry department, during which time my work was affected by ill health. Having at one point feared that I would not be able to complete the experimental part of this project, the support that I received from the faculty at Sussex, especially my supervisor, was brilliant. Finally being able to hand in this piece of work was an amazing feeling."
What experiments/modules were your favourite?
"I especially enjoyed the modules which gave me the opportunity to design and conduct independent practical work, such as the year three Chemistry Project."
What are you doing now?
"After completing my MChem, I went on to do a PGCE at Sussex and became a secondary school Chemistry teacher. In 2014 I chose to pursue my teaching career internationally in Rio de Janeiro, Brazil, and I am now Head of Science in an international school in Cairo, Egypt."
How did your degree at Sussex help you in your career?
"Obviously studying Chemistry has had a huge impact on my career, as I am aware of the kinds of topics that my students may study if they choose to study Chemistry at University. This allows me to extrapolate backwards to teach them both the content, and the skills that they would need to follow the subject further."
---
---
You might also be interested in: