My Sussex Chemistry journey
Lisa Wootton studied the Chemistry MChem at Sussex. During her degree she did a summer research placement looking at quantum dots, which led to her presenting in the Houses of Parliament. Find out more about her Sussex experiences.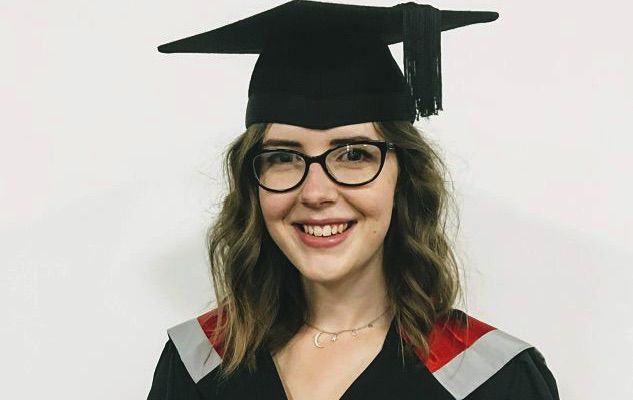 Lisa's story
Initially, Lisa Wootton thought she wanted to go into drug discovery as a career, but when she arrived at Sussex and discovered the opportunities on offer, she realised her true interest lay in inorganic and physical chemistry.
It was this discovery that encouraged Lisa to change her course to the Chemistry MChem. She learned about organometallics, which Sussex academic Geoff Cloke specialises in, carried out research into quantum dots as part of the Junior Research Associate Scheme (JRA), and secured a job at pharmaceutical company, Evotec.
Lisa said: "There was a lot of choice for what you could do a JRA in. At the end all JRAs give a poster presentation and I came second. I then presented at the British Undergraduate Research conference, which was at the Houses of Parliament.
"It was very surreal to be in the Houses of Parliament and Caroline Lucas came by to have a look and I presented to her."
During her degree, Lisa, who is also a first generation scholar, did her MChem project in the astrochemistry lab with Sussex academic, Professor Wendy Brown.
Lisa said: "I decided to do it in this area because it was totally different to what I had done before, not many places do astrochemistry so it was a good opportunity to get involved with it."
Lisa gained transferable skills from the project, including data analysis, which she knew she could use in her future career.
---
The open-door policy of lecturers is really good, it's always easy to go and talk to them and get support from them.

"

lisa wootton


Chemistry MChem
---
Lisa now works with the analytical team at pharmaceutical company, Evotech. Her job includes light maintenance and general upkeep of High-Performance Liquid Chromatography (HPLC) and Liquid Chromatography - Mass Spectrometry (LC-MS).
She carries out technical separations of drug candidates from impurities that require method development using liquid chromatography and helps chemists determine how 'drug-like' their compounds are, for example being soluble so they work in the body.
She said: "This is the part of the job that has the most data handling. I find my job very balanced and varied.
"Sussex helped me get the job because of the experience I had from doing two biochemistry modules, data analysis and general chemistry. The variety of options is really good, there's lots of opportunities to do different things.
"The open-door policy of lecturers is really good, it's always easy to go and talk to any of them and build relationships and get support from them. The lecturers never say no and are always helpful, you feel you're supported throughout your degree."
Undergraduate Chemistry courses:
---
---
You might also be interested in: