Sabrina's experience
In this blog post, Sabrina, an undergraduate Law student from Canada, talks about her experiences of studying at Sussex and how she met new people.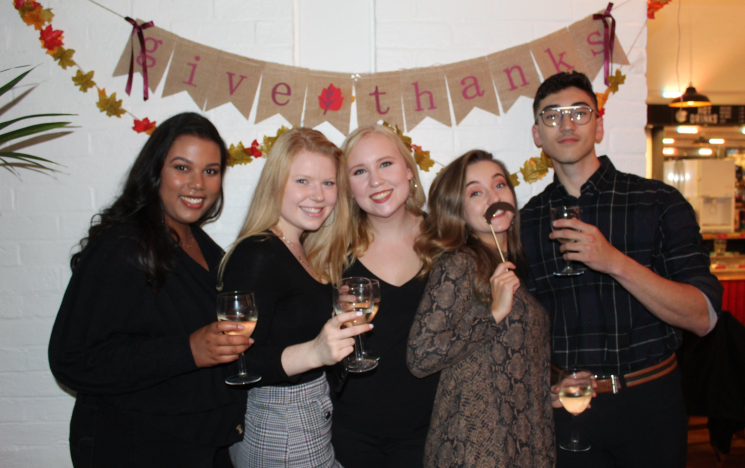 Sabrina and friends celebrating Thanksgiving at a Sussex Canadian Student Law Society social
Picking the right university to study abroad at can be challenging. Luckily, the program I was part of at my university back in Canada had a dual degree program with Sussex, so they had already done a lot of the work to pick out a good university to study abroad at.
Of course though, I did a little bit of research on my own to make sure Sussex would be a good fit for me personally. From research and just opinions of people I knew that had been to England, the consensus was that Brighton was a fun, lively, vibrant city to live in. So that feedback was very reassuring that Sussex was in a good location.
I also loved that Sussex had a more traditional style campus (not integrated within the city) so all the buildings and residences were on one big campus, but the city centre was still very close by, only about a 20 minute bus ride away and under 10 minutes by train!
Another factor that led me to come study at Sussex was that the wide range of international students from around the world that study at Sussex in addition to domestic students. Having such a diverse group of students at the University made me feel like I would be very welcomed as an international student and that the University really valued the importance of having a multi-cultural student body.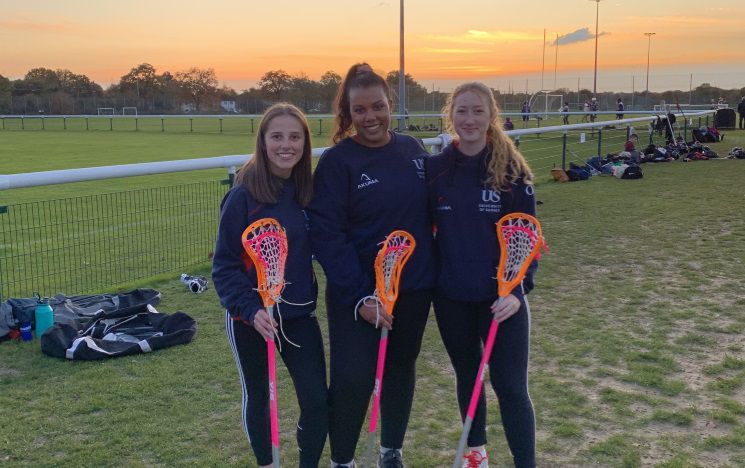 Sabrina and two other members of the University's Women's Lacrosse team
Sussex to me means, welcoming, social, and inclusive which I think are all really important traits for a university to have. I have joined a couple of societies during my time here which have been so fun and a great way to meet new people who have similar interests as me. All the societies and sports teams I have joined have been so welcoming and really take initiative to have social events to get people together and create a positive atmosphere for students to mingle and have fun together.
I love being in Brighton because it is such a quirky, fun place filled with really kind and friendly people. One of my favourite things to do is spend the afternoon in The Lanes checking out all the beautiful little shops and boutiques, having lunch at one of the many cute cafes and ending the day off by the beach to watch the sunset.
If you love a bit of history the Royal Pavilion is definitely a beautiful place to visit and spend some time! You can sit on the grounds for a picnic or go on a tour inside and view the beautiful artwork. Another great place to sit and relax by yourself or with friends is by the South Downs. You could sit there for hours and just enjoy the beautiful open areas.
There is something for everyone here in Brighton which is why I think it is such an appealing place to be and is ultimately why I chose to spend the summer here this year!
---
You might also be interested in: