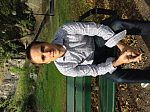 Dr
Johan Adam Warodell
Biography
I am the author of Conrad's Decentered Fiction (Cambridge University Press, 2022). This is the first work in many decades to present new primary sources in Joseph Conrad's own hand, in readings that span all of his fiction. The monograph brings the vibrant details of Conrad's writing to the forefront for study and reproduces and analyzes newly-discovered artworks, maps, and manuscripts.
https://www.cambridge.org/9781316512197
I have also written on Woolf, Russell, Nabokov, and Melville, and contributed close to twenty articles to The Cambridge Quarterly, Conradiana, The Conradian, English, ILS, Journal of Modern Literature, Leviathan, Modern Fiction Studies, Nabokov Studies, Notes & Queries, and Partial Answers. My writings have won prizes from the British and American Joseph Conrad Societies. My translation of Olof Lagercrantz's book on Heart of Darkness is published in Joseph Conrad Today.
My research interests are in modern literature, periodical literature, archival research, genetic criticism, analytic philosophy, visual art, and digital humanities.