Graphic narratives
As part of Co-POWeR (Consortium on Practices of Wellbeing and Resilience in Black, Asian and Minority Ethnic Families and Communities), Research Fellow Dr Alda Terracciano has worked in collaboration with the graphic artist Edgar Lushaju and in synergy with Research Fellows from other Co-POWeR work packages to produce graphic narratives and educational materials which can improve health literacy amongst racially minoritized communities, while channelling young people's personal experiences of the pandemic through graphic outputs.

"A Day in March"

"Be Happy and Get In Shape"
Graphic narrative
The narratives produced by the team have the role of complementing text-heavy reports and research papers, breaking down linguistic and cultural barriers to reach wider audiences in the UK and beyond. Integrating illustrations into research has the potential to make research outcomes more accessible to different audiences.
The creative process followed by the team has used a participatory approach in the creation of the artworks to increase the visibility and awareness of the social and cultural impacts of the pandemic on minoritized communities, representing them as key change-makers with vested interest in the wellbeing and resilience of their families and communities.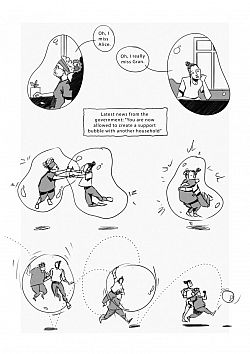 To achieve these broad goals the engagement activities delivered by the team focused on:
Engaging young and older community participants in drawing and storytelling activities that could help the creative team to channel personal everyday experiences in artistic research outputs for wider policy impact.
Using people's stories to explore the opportunities of sharing participants' personal experiences with wider communities in the UK and beyond.
Exploring how a participatory approach might support the way we create graphic artistic outcomes for research and dissemination purposes.
Following the year-long research with community participants the team has produced two graphic narratives, Be Happy and Get in Shape, and A Day in March, the first focusing on nutrition and well-being, the second on young people's mental health during the pandemic.
With regards to the themes explored in A Day in March, they include:
Negative impact of stop and search experiences on young people's mental health.
Frustration of school homework due to lack of access to wi-fi and computer equipment at home for children from low-income families.
Perception of school as boring and waste of time during the pandemic and preference to socialise with friends online.
Feelings of missing out on being social with friends, having to engage with family member.
Feelings of sadness due to the inability to visit family abroad due to pandemic.
Display of 'adaptive resilience' during the pandemic and opportunity for self-development, for example learning new skills such as music production.
To learn more about the creative method used in the development of the graphic narratives with community participants see Dr Terracciano's blog.

Collage created by research participants