Transforming the experience of playing music together
Volunteering to play keyboard in a school orchestra at his children's primary school gave Ed Hughes, Professor of Composition in Music at Sussex, the idea for a revolutionary new app for the iPad. Witnessing all the benefits and excitement of playing music in a group, he also noticed how stressed the children got when they lost their place, so he set out to find a solution.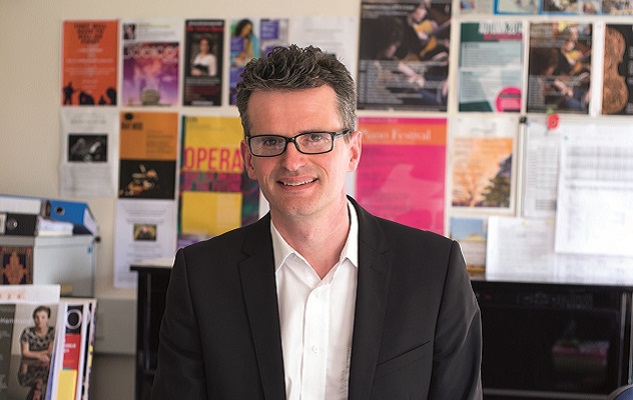 Working with Chris Kiefer and Alice Eldridge (the programming brains behind the software), Ed developed an app that helps children to keep their place, reducing their stress and allowing them to fully enjoy the experience. The score and tempo for each child's instrument are displayed on their tablet, helping them to keep in time with the rest of the orchestra.
Trialling the app locally at Southover School in Lewes, Ed saw an immediate difference in the children's confidence and enjoyment. Their Music teacher commented that the technology had transformed how well and how quickly the children mastered new pieces. And, as one little boy said, "It blew my mind – the sound was so much better than it normally is!".
Parents have praised the positive effects of the app on social media, and evaluation by colleagues Fidelma Hanrahan and Professor Robin Bannerjee from the School of Psychology at Sussex has been very encouraging. "Week after week we've had feedback from the children and the teachers suggesting changes and improvements, so we've been able to develop the app to really suit the end-users."
Ed was also able to trial the app with GCSE music students at a local secondary school, and at the Brighton Science Festival he used it in a concert with more experienced amateur adult performers. People were also able to turn up on the day never having seen or heard the piece, and play a part for handbell guided by the app. This revealed the tremendous potential to extend the app to non-readers of music, and Ed is starting to explore the idea of whether it could be used by teachers who themselves don't read music. It could expand opportunities for more children to take part in ensemble music playing, invaluable in a climate of funding cuts for music in schools.
"I'm really excited by the difference the app has already made," says Ed, "but we want to continue to refine it, and offer new study opportunities for community music-making groups, adult music-makers, people with disabilities, even professional musicians (the hardest market to impress and in some cases the most resistant to technology!). Sussex Innovation Centre is supporting us to take the next steps, financing market research to position us for a proper app release and we want to extend it to other platforms beyond the iPad."
---
Last updated: 8 November 2016
---
---
You might also be interested in: