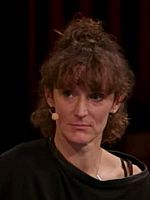 Dr
Alice Eldridge
Biography
Alice Eldridge's background in music, psychology (BSc), evolutionary and adaptive systems (MSc) and informatics (PhD) underpins creative and empirical interdisciplinary research in sonic (complex) systems at the interstices of music, technology and ecology. This includes improvisation, composition, field recording, instrument building and computational analysis of natural acoustic environments within the emerging field of ecoacoustics.
Current and recently funded projects include: development of novel acoustic methods for rapid biodiversity assessment and wilderness mapping in terrestrial and marine environments; participatory design of networked notation software to support ensemble music making; and exploring feedback as a design principle and musical aesthetic through developing new feedback musical instruments.
She has appeared on BBC TV Spring Watch and BBC radio 4 Costing the Earth as a soundscape ecologist; on BBC radio 3 Late Junction and Jazz on 3 as a free jazz cellist; on BBC radio 6 Lauren Laverne's show as a contemporary chamber composer; and on BBC radio 1 John Peel show as a pop bassist.
Twitter @alicealicealice
Role
Lecturer in Music and Music Technology (Music)
Internal Roles
Co-Director Sussex Humanities Lab
Music Department Research Ethics Officer
Library Consultative Group - MFM
Leverhulme DTC From Sensation and Perception to Awareness - Programme Management Committee
REF UoA 33 lead (deputising summer 2019)
MFM REF working group
Community and Business
2019 - Mentor for Trinity Laban Headley Fellow, Gemma Storr
2014 - Music Focus Group Arts Council of England, South East.
2014 - Field Scientist (Soundscape) for Operation Wallacea (Ecuador)
2011 - 2013 - Consultant for EU Leonardo project OpenSounds. European partnership led by the Italian Ministry of Education, developing an online platform for collaborative music making. N° LLP Link: 2011-1-IT1-LEO05-01908 CUP: G72F11000060006
2011 - 2013 - Producer for Sound and Music - UK charity supporting composers of New Music.
Review Boards and Committees
Artificial Life Journal peer reviewer (ongoing)
UKRI - Future Leaders Fellowships Scheme Bid reviewer (2019)
Swiss National Science Foundation - Sparks Grant reviewer (2019)
International Society of Artificial Life Merit Awards Committee (2019)
Artificial Life - conference committee (2018)
Journal of Adaptive Behaviour - reviewer
PlOS ONE - Expert reviewer (Journal)
Ecological Indicators - Expert reviewer (Journal)
Apple Developers Conference - Conference Committee
International Conference of Live Interfaces - Artistic Chair
International Conference on Computational Creativity - Conference committee
IEEE Congress on Evolutionary Computation - Reviewer for technical committee
International Conference on Live Interfaces - Scientific Committee
International Journal of Performance Arts and Digital Media - Expert paper reviewer
IEEE Congress on Evolutionary Computation - Reviewer for Technical Program Comittee
IJCAI - Workshop on AI and Feedback - Program Committee
Artificial Life Journal Special Issue on Art, Creativity and Culture - Reviewer.
International Symposium on Computer Music Multidisciplinary Research (CMMR) - Reviewer
Computation, Communication, Aesthetics and X (xCoAx) - Program committee.
GECCO (Genetic and Evolutionary Computation Conference) - Program committee.
International Computer Music Conference - Reviewer Program committee.
Evo* EVOMUSART, Budapest - Workshop committee.
Third Iteration Digital Arts Practice, Melbourne - Program committee.

Networks and Memberships
Board member of the UK and Ireland Soundscape Community
Member of International Society of Ecoacoustics
Member of International Computer Music Association
PRS Composer Member
PPL Performer / Label Member