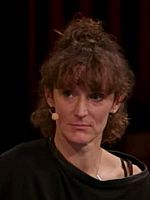 Dr
Alice Eldridge
Biography
Alice Eldridge's background in music, psychology (BSc), evolutionary and adaptive systems (MSc) and informatics (PhD) underpins creative and empirical interdisciplinary research in sonic systems across creative and ecological domains. This includes improvisation, composition, field recording, instrument building and computational analysis of natural acoustic environments within the emerging field of ecoacoustics.
Current and recently funded projects include investigating the potential for computational analysis of the acoustic environments for biodiversity monitoring, developing networked notations to support ensemble music making and designing and building new feedback musical instruments.
She has appeared on BBC TV Spring Watch and BBC radio 4 Costing the Earth as a soundscape ecologist; on BBC radio 3 Late Junction and Jazz on 3 as a free jazz cellist; on BBC radio 6 Lauren Laverne's show as a contemporary chamber composer; and on BBC radio 1 John Peel show as a pop bassist.
Twitter @alicealicealice
Commissions
I take an intuitive approach to composition, often mixing improvisation with notated composition and field recording. I also create bespoke physical interfaces for performance.
Notable composition and creative technology commissions include:
2018 In Katak - Performance system for cello and field recordings as part of Jez Riley French's Audible Silence series at Blue Dot Festival
2018 Bird Bath - Soundscape (field recordings) for Bird Bath with meditation teacher and broadcaster, Alistair Appleton
2016 Before and After - Soundtrack for GUCCI's Cruise collection Director's Cut
2014 Magic Carpet - interactive sound interface for Russell Brand's book launch of the Pied Piper of Hamlyn, The Albert Hall
2014 Lucia Dawn FP - Soundscape (field recordings, improvised piano) for Architects of Air's luminarium Arboria
2011 Overlapsing Words – Generative Poetry screen saver for Guys' and St Thomas' Cancer Day unit with artist Heather Barnett
2010 The Life of Shoes - soundscape commissioned by Joanna MacGregor for Bath International Music Festival
Collaborations
As a cellist I make and play forms of chamber music at the intersections of contemporary classical, free improvisation, jazz, pop, avant garde and folk. Since 2000 I have created, performed and recorded as one-quarter of all female arts collective, Collectress
Other long term collaborators include:
Feedback Cell with Chris Kiefer
Mary Hampton (Paul Hamlyn awardee) as a duo and in Cotillion
Seth Bennet as Duot and En Bas - a low frequency string quartet (supported by Sound and Music)
Lianne Hall (John Peel favourite) in Pico and Broken Heart Club
I have had the pleasure of collaborating with some of europe's most adventurous and generous musicians, including:
Iancu Dumitrescu, Emmy the Great, John Edwards, Icarus, Julie Kjaer, Vagina Dentata Organ, Evan Parker, Jez Riley French, Mark Sanders, Mandhira de Saram.
Releases
See selection at Discogs
Field work
Since 2014 I have carried out funded ecoacoustic and ethnographic fieldwork in tropical, temperate and arctic regions including:
Ecuador: Santa Lucia Cloud Forest Reserve, Amazonian Huaorani Reserves (Nenkepare)
UK: Knepp Estate, Plashett Wood
Lapland: Abisko National Park
Indonesia: Komodo National Park (Flores)
Research group pages:
Role
Current:
Lecturer in Music and Music Technology (Music); Convenor BA Music Technology

Past:
2015 - 2018 Sussex Humanities Lab/ Music (Music Film and Media):
- Research Fellow; Lecturer and module convenor Generative Art and Musical Machines; PhD Supervisor
2013-2015 Evolution, Behaviour and Environment (Life Sciences):
- Research Fellow; PhD Supervisor
2012 - 2015 Informatics (Engineering and Informatics):
- Lecturer in Music Informatics and Generative Creativity; Course convenor Music Informatics.
Internal Committees and Working Groups
Library Consultative Group - MFM
Leverhulme DTC From Sensation and Perception to Awareness - Programme Management Committee
Community and Business
2014 - Music Focus Group Arts Council of England, South East.
2014 - Field Scientist (Soundscape) for Operation Wallacea (Ecuador)
2011 - 2013 - Consultant for EU Leonardo project OpenSounds. European partnership led by the Italian Ministry of Education, developing an online platform for collaborative music making. N° LLP Link: 2011-1-IT1-LEO05-01908 CUP: G72F11000060006
2011 - 2013 - Producer for Sound and Music - UK charity supporting composers of New Music.
Review Boards and Committees
Artificial Life - conference committee
Journal of Adaptive Behaviour - reviewer
PlOS ONE - Expert reviewer (Journal)
Ecological Indicators - Expert reviewer (Journal)
Apple Developers Conference - Conference Committee
International Conference of Live Interfaces - Artistic Chair
International Conference on Computational Creativity - Conference committee
IEEE Congress on Evolutionary Computation - Reviewer for technical committee
International Conference on Live Interfaces - Scientific Committee
International Journal of Performance Arts and Digital Media - Expert paper reviewer
IEEE Congress on Evolutionary Computation - Reviewer for Technical Program Comittee
IJCAI - Workshop on AI and Feedback - Program Committee
Artificial Life Journal Special Issue on Art, Creativity and Culture - Reviewer.
International Symposium on Computer Music Multidisciplinary Research (CMMR) - Reviewer
Computation, Communication, Aesthetics and X (xCoAx) - Program committee.
GECCO (Genetic and Evolutionary Computation Conference) - Program committee.
International Computer Music Conference - Reviewer Program committee.
Evo* EVOMUSART, Budapest - Workshop committee.
Third Iteration Digital Arts Practice, Melbourne - Program committee.

Networks and Memberships
World Forum for Acoustic Ecology
Live Algorithms for Music - EPSRC research network - funded member
Interdisciplinarity – EPSRC research network - member
PRS Composer Member
PPL Performer / Label Member