The magic of a conversation across generations
Professor Margaretta Jolly's research has not only changed perceptions of the UK Women's Liberation Movement, it has shown how oral history has the power to connect and to humanise.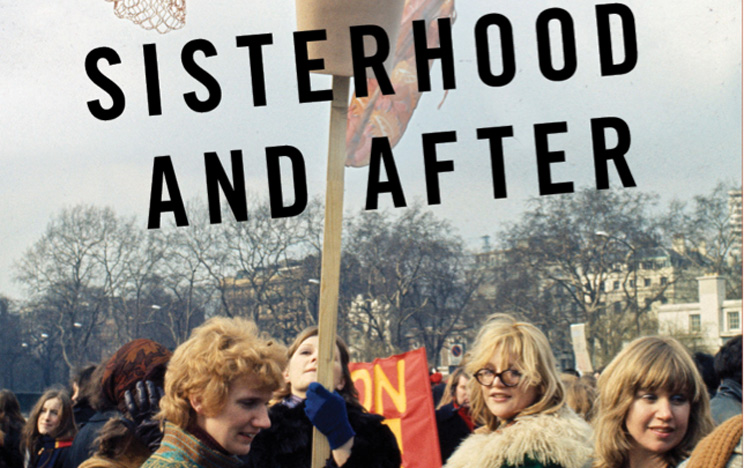 In 2010 Professor Margaretta Jolly embarked on pioneering research with colleagues at Sussex and the British Library to capture oral history interviews with activists in the UK Women's Liberation Movement (WLM). Little did she know that a decade later the research and subsequent work would continue to reach audiences around the world, changing perceptions of feminism and the WLM, and offering valuable perspectives in a time of heightened global tensions around race and gender.
The first tranche of work, 'Sisterhood and After: The Women's Liberation Oral History Project' (S&A) came about because there was no national oral history of the (post-1968) UK WLM and no published general history. With former Sussex Research Fellow Dr Rachel Cohen, and Dr Polly Russell, the project's curator at the British Library, the team eventually carried out 60 interviews with activists, recorded over many hours, transcribed and archived on the British Library website to help tell their life stories.
The interviews shed new light on many aspects of feminism from work and class, relationships and health, to business, spirituality and feminist death, helping to unpick feminist stereotypes and underlining the continued relevance of WLM ideas and approaches for activists both inside and beyond the movement.
The process itself was intense but Jolly feels hugely privileged to have been involved. Using the long-life form of interviewing, the women were encouraged to talk about their entire lives and wider families, to help explain their influences and how they developed as individuals. The often profoundly moving conversations surfaced both the public and the very personal. The result is an archive that is rich in detail about the period, offering a priceless resource not simply for the perspectives it offers on UK feminist history.
Changing perceptions and educating new generations
One of the main aims for S&A was to create a permanent, accessible and professional oral history collection of the WLM at the British Library that would match the oral history collections of suffrage activists, now recognised to have world heritage value.
But it wasn't enough for the team simply to launch the S&A archive online. The project also gave rise to ten short films directed by Sussex's Professor of Film Lizzie Thynne. These feature, for example, Rebecca Johnson, a policy advisor on nuclear disarmament, returning to the site of Greenham Common Women's Peace camp, and Jan McKenley, leader in Black educational inclusion, speaking movingly of the personal experiences behind her work with the National Abortion Campaign.
The project also produced with the British Library a diverse range of educational materials and workshops, exhibitions, conferences and podcasts, as well as a book Sisterhood & After: An Oral History of the Women's Liberation Movement, 1968 – present, all designed to engage with audiences from academics to the broader public, from year 7 pupils just starting secondary school to feminists and activists young and old.
Interest in the project has remained high over the years, with over 400,000 visitors to the project web pages since their launch in 2014. And, owing to the popularity of the workshops aimed at teens and their teachers in 2015, the British Library made the bi-monthly sessions a permanent offer from their Learning Department. Such is the continued appetite, the workshops increased to three per month in 2019.
As one teacher reflected, the experience had made pupils "really 'think' about the Women's Liberation Movement in relation to their lives today". Another reported that learning about former international footballer and sports-equality activist Sue Lopez inspired one group of year 10 girls to set up their own football team.
Influencing international approaches to oral history
The reach of the project has extended far beyond the UK, with S&A being used as a model of best practice for other oral history projects.
In Switzerland, it helped guide interview methods, selection criteria and the construction of a website for a national oral history of the Swiss women's movement.
In Beijing, the China Women's University's interest in the project led to them engaging Jolly as a visiting professor, coming to Beijing a number of times over four years, to help develop their own China Women's Oral History Project. It was a partnership, explains lead archivist Li Huibo, that enabled Chinese historians to 'further understand each other's idea of gender and of oral history's political purpose.'
Beyond S&A
S&A's successes have increased the desire within the British Library to engage with feminist histories, acting not only as a catalyst for new acquisitions but for other major feminist archival projects including digitising Spare Rib magazine.
They have also enabled the continuation of the fruitful research partnership between Sussex and the British Library, with a follow-on project exploring the history of feminist publishing, 'The Business of Women's Words', similarly based on oral histories and detailed research.
A companion book Unfinished Business: The Fight for Women's Rights, co-edited by Jolly and British Library curator Polly Russell, accompanies the landmark exhibition of the same name, launched in autumn 2020.
The lessons of oral history
"Hearing from long-time activists through all of these oral histories can teach us something about endurance, stamina and resilience – the power of sticking with it," says Jolly. "In the wonderful words of feminist scholar Donna Haraway, it's about 'staying with the trouble'. For me, there's something very inspiring about an older generation of activists sharing what they did and how they kept going. Oral history has that magic of a conversation across generations."
Among the many remarkable women interviewed for S&A, Karen McMinn (former Director of Northern Ireland Women's Aid 1981-1996) strongly underlined for Jolly how oral history research can offer hope in a world that seems to be increasingly divided. As McMinn reflected, it's partly about learning about your forebears but also about engaging with people you may not understand or with whom you completely disagree. Personal oral history can be a hugely powerful tool to connect and to humanise.
And at a time when the MeToo movement, Black Lives Matter and non-binary and trans rights issues are revitalising protest movements, but also experiencing heated clashes and backlashes, Jolly feels that projects like S&A have something to teach us all about respectful dialogue and listening with care.
"There is no quick fix for what we're facing today," says Jolly. "Our era is one of political polarisations, and populist politicians have exploited this. At the same time the internet and social media are fanning the flames of division. What an oral history project of the scale, depth and humanity of S&A (and many others like it) can teach us is the power of coalitions – across class, race, sexuality, gender – of overcoming pride and polarisation."
We can all learn from what Jolly calls 'slow listening'. "We must move forward," she concludes. "And to do so, we need to take time to listen. Listen to the silences as much as the words – to the pauses, the tears, the sighs and the smiles that punctuate these testimonies."
'Sisterhood and After: The Women's Liberation Oral History Project' was funded by the Leverhulme Trust. The Trust also funds 'The Business of Women's Words: Purpose and Profit in Feminist Publishing', partnered with The British Library and the University of Cambridge.
---