The Pandemic and Inequality
Following the success of the SSRP web forum on the pandemic and sustainability, SSRP ran this second webinar as part of a series picking up the key themes raised in the forum blogs. This webinar focused on the impact of the pandemic on refugee and indigenous communities specifically.
'The pandemic and inequality' webinar was held on Tuesday 30 June 2020 and welcomed 43 people from within the University of Sussex and Institute of Development Studies (IDS) community, and beyond.
The COVID-19 pandemic has exposed and deepened inequalities in our societies around the world. From ethnic minorities, refugees and asylum seekers, migrant workers, pastoralists, indigenous peoples and the poorest of the poor being disproportionately affected by not only the virus itself, but also by the social impacts as a result of the various responses to the pandemic worldwide.
The crucial questions this webinar addressed included:
Has the pandemic has led to greater inequalities in the world, and for who exactly?
How has the pandemic affected social, environmental and economic aspects in developing countries?
Webinar participants:
Dr Shova Thapa Karki, Senior Lecturer in Entrepreneurship and Sustainability, moderated this webinar. Shova's research interest lies at the nexus of environment, business and development, particularly on the role of entrepreneurship in contributing to sustainable development goals. Shova was the Co-Investigator on SSRP project investigating the resilience and sustainability of small farms, analysing the ways farmer organisations influence cooperation among smallholders and the implications for sustainability and livelihood resilience to shocks and stresses in marginal mountainous areas in India.
Dr Mary Menton, Research Fellow in Environmental Justice in the School of Life Sciences at the University of Sussex. Mary is part of the Project Team on the SSRP project 'SDG's, global commodity chains and environmental justice' which investigates how environmental justice conflict impacts achievement of United Nations Sustainable Development Goals (SDGs) in Ecuador. She also leads research on violence against environmental defenders and on the political ecology of land and resource conflicts and indigenous peoples' resistance in the face of COVID in Brazil.
Michael Collyer, Professor of Geography in the School of Global Studies at the University of Sussex. Michael was the Principal Investigator on the SSRP project 'Urbanisation and changing food systems' which investiagted the multiple systemic drivers of urban nutrition environments in low- and middle-income countries (LMICs) of Sub-Saharan Africa and South Asia.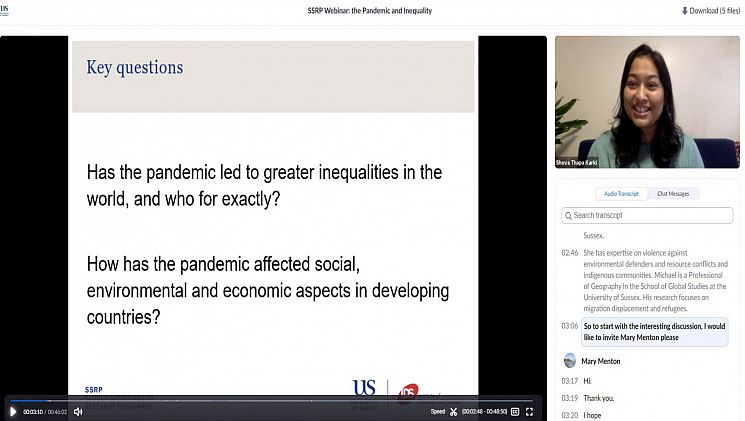 Register to attend the next webinar in the series, 'A Tale of Two Crises: The Pandemic and Climate Change' on Tuesday 14 July at 11.00-11.45am (BST).
As with all of our webinars, they are open for anyone to attend, both inside and outside of the university.
For more on the pandemic and sustainability, read the thought-provoking blogs from our academic community in the SSRP web forum on the pandemic and sustainability.
If you have any questions about these events, please contact: ssrp@sussex.ac.uk