The Pandemic and Biodiversity
Following the success of the SSRP web forum on the pandemic and sustainability, SSRP ran its first webinar as part of a series picking up the key themes raised in the forum blogs. This webinar focused on human-environment interactions and their implications for biodiversity due to the COVID-19 pandemic.
'The pandemic and biodiversity: how we interact with the environment' webinar was held on Tuesday 16 June 2020 and welcomed 46 people from within the University of Sussex and Institute of Development Studies (IDS) community, and beyond.
From its likely source in a wild meat market to its consequences on wildlife and farmland management, the Coronavirus pandemic is bound to change the way we interact with nature. In this interactive Sussex Sustainability Research Programme (SSRP) webinar we explored the big questions around this theme, such as:
What role did human-environment interactions have to do with the emergence of COVID-19 and the resulting pandemic?
What is the importance of wild animals in the diet and livelihoods of people in rural and remote areas?
What impact will the pandemic now have on biodiversity policies, and on implementing the Sustainable Development Goals (SDGs) both nationally and internationally?
How can these policies be improved in the light of the pandemic?
What would human-environment interactions look like in a sustainable world?
What new research do we need to answer these questions?
It was moderated by the Director of the Sussex Sustainability Research Programme (SSRP), Professor Joeseph Alcamo, and the panelists were:
Dr Joanna Smallwood, a Research Fellow in the School of Law, Politics and Sociology, who works in nature conservation, biodiversity law, and governance issues in food production and consumption.
Dr Mika Peck, a Senior Lecturer in Biology in the School of Life Sciences, who is dedicated to conservation of tropical environments through research, grassroots conservation action and the support of environmental defenders.
Prof Jörn Scharlemann, Professor of Conservation Science in the School of Life Sciences, who researches the impacts of environmental changes on biodiversity and ecosystems.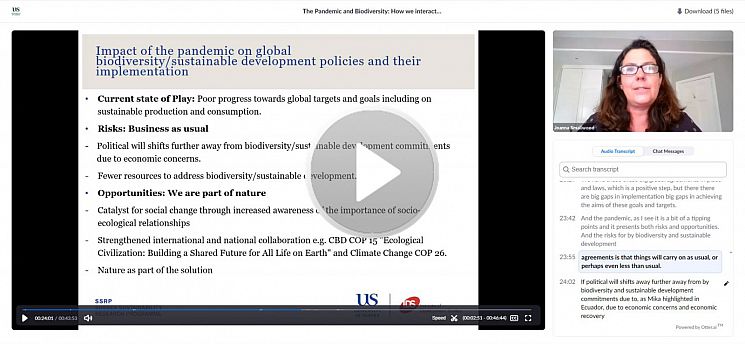 Register to attend the next webinar in the series, 'The Pandemic and Inequality' on Tuesday 30 June, 11am (BST). As with all of our webinars, they are open for anyone to attend, both inside and outside of the university.
For more on the pandemic and sustainability, read the thought-provoking blogs from our academic community in the SSRP web forum on the pandemic and sustainability.
If you have any questions about these events, please contact: ssrp@sussex.ac.uk