About SCMR
We bring together a large community of migration scholars, as well as a dynamic and engaged postgraduate community. True to the University of Sussex tradition, the Sussex Centre for Migration Research has a creative, genuinely interdisciplinary, and global approach to research and teaching.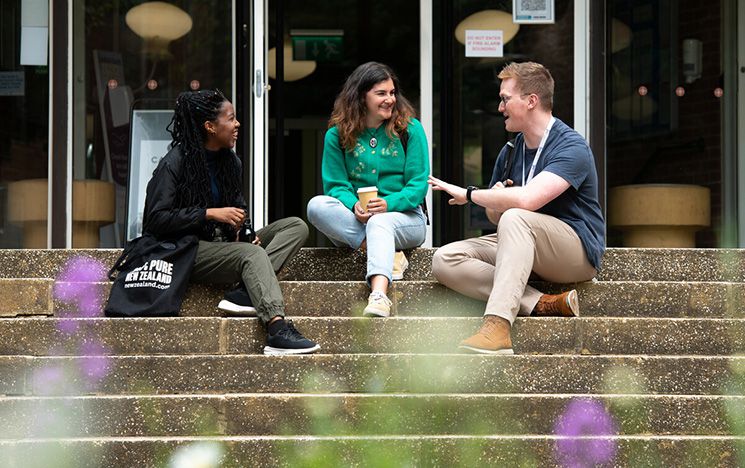 Postgraduate students on campus (Photo: University of Sussex, 2022)
About us
Our faculty lead on international research projects and collaborations involving networks across Europe, Africa, Asia and North America, including our institutional link with Mahidol University, Thailand, formalised through the Sussex-Mahidol Migration Partnership (SMMP).
Theoretically-informed, our research is empirical and impactful, and as well as academic partners, our faculty and postgraduates regularly interact with partners outside of academia, from local to global.
SCMR is home to the Journal of Ethnic and Migration Studies (JEMS). Established over 50 years ago, JEMS has been hosted and edited by SCMR staff since the 1990s and has high impact factor rankings in Ethnic Studies and Demography.
The journal helps support SCMR activities, including our annual international SCMR-JEMS conference, postgraduate activities, community outreach events and seminar series.
SCMR has everything: a friendly, collegiate core, two outstanding MA programmes full of inspiring students, great links to activist organisations, strong collaborations with policy thinktanks, NGOs and international organisations and a global reputation."

Mike Collyer


Professor of Geography

Teaching and supervision
Sussex established the UK's first Migration MA and PhD programmes in 1997. We offer an MA in Migration Studies and an MA in Migration and Global Development, building directly on Sussex's international reputation for Development Studies (1st in the world, QS World University Rankings 2022).
We offer a PhD in Migration Studies, as well as the opportunity to do a PhD in any of Sussex's disciplines, supervised by SCMR faculty.
Want to study with us? Please see our teaching and supervision page.
The history of SCMR
The establishment of a Migration Research Centre at Sussex was proposed in 1997, by members of the Sussex Migration Research Group, and officially launched in January 1998. We benefit from the shared experiences of hundreds of alumni, colleagues and international partnerships over the years. For a trip down memory lane, see the archive below.
Archive

SCMR Archive 1996-2007

Scanned SCMR newsletters and annual reports from 1996-2007. Alumni and former colleagues might even find reference to themselves!
We are always happy to hear how our alumni and former colleagues are getting on. Please get in touch via our social media or via migration@sussex.ac.uk.
Sussex Centre for Migration Research, School of Global Studies, University of Sussex, Falmer, Brighton BN1 9SJ, United Kingdom