Publications
Beckett and Musicality.
Conference publication
Sara-Jane Bailes and Nicholas Till, eds. Beckett and musicality. (Ashgate, Farnham, 2014)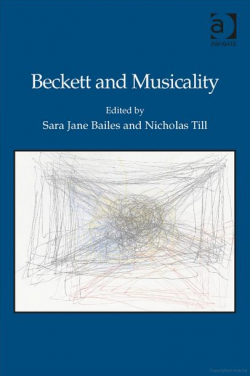 Discussion concerning the 'musicality' of Samuel Beckett's writing now constitutes a familiar critical trope in Beckett Studies, one that continues to be informed by the still-emerging evidence of Beckett's engagement with music throughout his personal and literary life, and by the ongoing interest of musicians in Beckett's work. In Beckett's drama and prose writings, the relationship with music plays out in implicit and explicit ways. Several of his works incorporate canonical music by composers such as Schubert and Beethoven. Other works integrate music as a compositional element, in dialogue or tension with text and image, while others adopt rhythm, repetition and pause to the extent that the texts themselves appear to be 'scored'. But what, precisely, does it mean to say that a piece of prose or writing for theatre, radio or screen, is 'musical'? The essays included in this book explore a number of ways in which Beckett's writings engage with and are engaged by musicality, discussing familiar and less familiar works by Beckett in detail. Ranging from the scholarly to the personal in their respective modes of response, and informed by approaches from performance and musicology, literary studies, philosophy, musical composition and creative practice, these essays provide a critical examination of the ways we might comprehend musicality as a definitive and often overlooked attribute throughout Beckett's work.
This book was the outcome of the CROMT Beckett and Musicality conference that took place at Sussex in 2009
'Beckett and Musicality represents a scholarly, versatile and imaginative engagement with Beckett's own work and the musical afterlife which it has engendered. It is a decisive contribution to Beckett studies which deserves a wide and attentive readership.' Harry White, University College Dublin, Ireland
Cambridge Companion to Opera Studies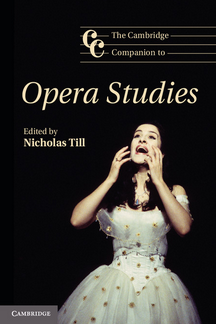 Nicholas Till (ed.) : The Cambridge Companion to Opera Studies (Cambridge Companions to Music), (Cambridge University Press, 2012).
With its powerful combination of music and theatre, opera is one of the most complex and yet immediate of all art forms. Once opera was studied only as 'a stepchild of musicology', but in the past two decades opera studies have experienced an explosion of energy with the introduction of new approaches drawn from disciplines such as social anthropology and performance studies to media theory, genre theory, gender studies and reception history. Written by leading scholars in opera studies today, this Companion offers a wide-ranging guide to a rapidly expanding field of study and new ways of thinking about a rich and intriguing art form, placing opera back at the centre of our understanding of Western culture over the past 400 years. This book gives lovers of opera as well as those studying the subject a comprehensive approach to the many facets of opera in the past and today.
'In both the clarity of its organization and the uniformly high standard of the individual essays, this is an outstanding collection.' Source: The Times Literary Supplement
Opera Indig
e
ne. 
Conference Publication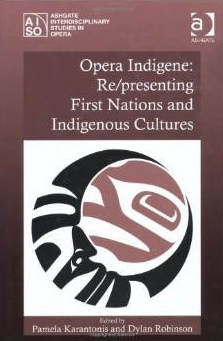 Opera Indigene Re/presenting First Nations and Indigenous Cultures, edited by Pamela Karantonis and Dylan Robinson (Ashgate, 2011).

The representation of non-Western cultures in opera has long been a focus of critical inquiry. Within this field, the diverse relationships between opera and First Nations and Indigenous cultures, however, have received far less attention. Opera Indigene takes this subject as its focus, addressing the changing historical depictions of Indigenous cultures in opera and the more contemporary practices of Indigenous and First Nations artists. The use of 're/presenting' in the title signals an important distinction between how representations of Indigenous identity have been constructed in operatic history and how Indigenous artists have more recently utilized opera as an interface to present and develop their cultural practices.
This volume explores how operas on Indigenous subjects reflect the evolving relationships between Indigenous peoples, the colonizing forces of imperial power, and forms of internal colonization in developing nation-states. Drawing upon postcolonial theory, ethnomusicology, cultural geography and critical discourses on nationalism and multiculturalism, the collection brings together experts on opera and music in Canada, the Americas and Australia in a stimulating comparative study of operatic re/presentation.
The book is based on papers given at our 'Opera Indigene' Conference in 2008.  Full details of the book can be found here.
Give Me
Your
Blessing for I go to a Foreign Land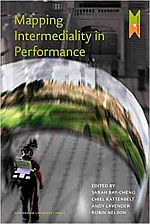 Tim Hopkins "Give Me Your Blessing for I go to a Foreign land". In: Sarah Bay-Cheng, Chiel Kattenbelt, Andy Lavender and Robin Nelson, (eds.) Mapping Intermediality in Performance. (Amsterdam University Press, 2010)

An account of Tim Hopkins' multimedia project "Give me Your Blessing for I go to a Foreign Land". 
This volume examines afresh the impact upon acting and performance of digital technologies. It is concerned with how digital culture combines the traditional 'liveness' of theatre with media interfaces and internet protocols. The time and space of the 'here and now' are both challenged and adapted, just as barriers between theatre-makers and the 'experiencers' of events are broken down. Today many of us are everyday players performing the interconnectedness of digital culture and a key aim of the book is to unpack the multiple interrelations within the landscape of contemporary performance. Access to a range of 'instances' (The Builders Association, Castellucci, Castorf, Gob Squad, Lepage, Second Life and VJing) is through 'portals' which afford perspectives on the main characteristics of theatre and performance in the digital age.
Pour
une
sc
è
ne
actuelle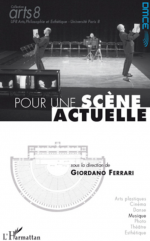 Nicholas Till and Stefano Gervasoni - Pas si. In: Ferrari, G (ed.) Pour une scene actuelle. (L'Harmatton, 2009).

The last part of a research "Contemporary Musical Dramaturgy in Europe", these reflections come back to the debate of the "present" of scenic works, but also addresses questions related to production. It is not a question of noting the death or the rebirth of the traditional opera, but of being interested in the aspects of the most recent production through what the composers of today maintain with the "remains" of this form extremely steeped in history.
This book section is an account of the CROMT "Pas si" project (Archive 2008).