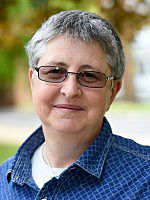 Prof
Sally Munt
Biography
BA Hons (First Class) English and Media Studies (Soton)
MA in Twentieth Century Literature and Culture (Sussex)
DPhil in English Literature/Cultural Studies (Sussex)
MSc in Cognitive Psychotherapy (Brighton)
PG Diploma in Psychiatry (Brighton & Sussex Medical School)
Fellow of the Royal Society of Arts
1994 – 1995 Fulbright Fellow – American Council of Learned Societies/ CUNY Graduate School. Visiting Professor at C.U.N.Y. Graduate School, New York.
Community and Business
Sally has been involved with the lesbian, gay, bisexual, trans and queer communities locally and nationally for over 30 years.
Sally was a member of the Resilient Therapy Community of Practice, University of Brighton 2008-10. In 2009 she designed and delivered a Cognitive Behavioural Therapy course on resilience to women refugees, "Journeys of Resilience", which formed part of the university's knowledge transfer strategy, as a member of the South Coastal Communities Scheme. SECC is a university partnership with local communities. Sally continues to practice as a BABCP Accredited Cognitive Behavioural Psychotherapist.
Sally has continued to work with asylum seekers and refugees in community impact and engagement, recently as PI of the AHRC Cultural Values development award, Cultural Values from the Subaltern Perspective: A Phenomenology of Refugees' Experience. Partnerships on this award included The Refugee Council, the 'think-tank' Demos, Glyndebourne Opera House, Brighton and Hove Council, Brighton Jubilee Library, Refugee Action, Brighton and Hove Buses, Brighton Museum, and others. Previous awards include from HeFCE and the EU funded South East Coast Development Fund, 'Building Resilience with Refugee Women', and British Academy conference grants.
As Director of the research centre Sussex Centre for Cultural Studies, Sally organises an annual summer 'outreach' event to include those who are outside of the academy, usually in the form of a workshop or a conference with community partnership interest.
Sally set up The Sanctuary Project in 2016, which is a free service providing PTSD treatment for refugees, asylum seekers, and destitute migrants living in Sussex. The Sanctuary Project involves clinical psychologists and CBT psychotherapists working to NHS/NICE guidelines in providing no cost mental health treatment for this community. We also provide a befriending service for adult refugees who are often isolated and benefit from more social integration and support from volunteers.
MEMBERSHIP OF PROFESSIONAL BODIES
2018 Irish Research Council International Panel for funding programme: Coalesce (Collaborative Alliances for Societal Challenges/Ireland 2040)
2018 Expert Reviewer, National Commission for Science and Technology, Ministry of Education, Government of Chile (Sept/Oct)
2018 Irish Research Council Doctoral Research Awards Inner Assessment Board
2018 Irish Research Council Postdoctoral Research Awards Inner Assessment Board
2018 Research Council UK Global Challenges Research Fund (Interdisciplinary Research Hubs) Commissioning Panel (January)
2017 Irish Research Council Postdoctoral International Assessment Board Panel
2017 AHRC Cultural Values Follow on Funding Panel
2016 ESRC Commissioning Assessment Panel – 'Forced Displacement' call, Global Challenge Research Programme, (individual bids, budget of £3.5M),
2016 Evaluator, final conference/EU funding programme HERA, Cultural Encounters, September, Prague, Czech Republic.
2016 AHRC Panel Member - Peer Review College Nominations Panel,
2016 Reviewer: Fund for Scientific Research, Brussels/EU
2015-17 Expert Evaluator HERA Cultural Encounters Programme (EU).
2015 Institutional REF, international panel evaluator, University of Turku, Finland.
2015 AHRC Panel member (A – 'History, Philosophy, Religious Studies') Research Grants
Invitation to AHRC Panel – 'Leadership Fellows'
2015 AHRC Chair for Panel training for Peer Review College.
2014 Expert Panellist HERA Cultural Encounters Programme (EU)
2013 Panel Chair AHRC Research Grants - Culture and Heritage
National Moderator: AHRC Research Networks Scheme 2010-13 (AHRC Panel Chair)
International Board Member: IRCHSS - Irish Research Council for the Humanities and Social Sciences 2011-present
2012 AHRC Panel Member Panel D: Languages and Literature: Research Grants Scheme
2012 HERA (Humanities in the European Research Area) Joint Research Programme Review Panel "Cultural Encounters". 18.5 million EUR. The Programme is co-funded by the research funding agencies in 18 participating countries and the European Commission. The selection process is managed by the European Science Foundation (ESF)
2007-09 Member AHRC Postgraduate Panel Panel 2, Visual Arts and Media – national subject representative for area 'Cultural Studies'
Member: AHRC Peer Review College
Accredited Member: British Association for Behavioural and Cognitive Psychotherapies.
(Elected) Member of national executive committee of MeCCSA UK (Media, Communications & Cultural Studies Association) 1999-2006.
Member of MeCCSA Academic Development subcommittee 1999-2006.
Member of national Subject Reference Group for UK Higher Education Academy, for Art, Design & Media [HEA-ADC], to advise on learning and teaching in British HEIs, 2001-6. [5 years].
Member: Society of Authors
External Consultancy
External consultant for scoping study for Greater London Authority 'Supplementary Planning Guidance on meeting the needs of London's Diverse Communities' May 2003.