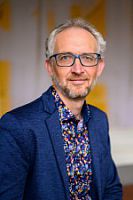 Prof
Johan Schot
Biography
Professor Johan Schot joined the University of Sussex as the Director of SPRU – Science Policy Research Unit - in January 2014. He is a Professor in the History of Technology and Sustainability Transitions Studies. His research is wide ranging but has always focused on integrating social science and historical perspectives for a better understanding of the nature and governance of radical socio-technical change. Prior to coming to Sussex, he held academic posts at the Eindhoven University of Technology and University of Twente, Netherlands. Under Johan's directorship, SPRU is embarking on an ambitious, new strategy to expand and build on its impressive track record across research, teaching, impact and engagement. The strategy, designed in the lead-up to the 50th anniversary in 2016, will draw on SPRU's extensive activities and capture the best thinking within and beyond SPRU.
As part of this new strategy, Johan and SPRU colleagues aim to develop a new innovation theory which will address the current crisis of capitalism and a number of key challenges our world is facing: inequality, climate change, the democratic deficit, and the need to develop new system of provision for security, food, water, energy, healthcare and mobility. Necessarily the program will theorize the nature, scale and scope of long-term transformative change, and ways of providing directionality to economic growth. The new theory will synthesize insights from economics of innovation, science & technology studies, history of technology, and other relevant fields.
Johan is in an excellent position to nurture the development of such a programme in SPRU. His work has always been at the junction of various academic fields and disciplines. In 2009, Johan Schot was elected to the Royal Netherlands Academy of Arts and Sciences (KNAW) for the genuine interdisciplinarity of his work. He has been heavily involved in the development of innovative new concepts and interpretations, and has co-produced highly cited and influential academic contributions. In 2002 he was awarded a VICI grant by the Netherlands Organization for Scientific Research (NWO). This is a personal award for top-scholars comparable with the ERC Advance Investigator Grant. In 2015 he was awarded the Leonardo da Vinci Medal for his outstanding contributions to the history of technology. In 2017, a further accolade was received for his work in the History of Technology, with an honorary degree being awarded by the New University of Lisbon, Portugal for his outstanding research and contribution to the field and its development.
His ability to create and pioneer large scale, creative, academic collaborations has helped to transform policy practices, broaden academic understandings, and develop new innovative outputs in the form of programmes, book series and networks. Some examples of these outputs include:
Johan has always been keen to support and invest in PhD students and early career scholars. He was the founder and director of several doctoral programmes as well as a string of summer schools and master classes. A passionate teacher, Johan has been heavily involved in designing and developing undergraduate and graduate programmes that incorporate social science and humanities perspectives into the education of future business leaders, policy makers, engineers and scientist.
You can visit Johan's website: www.johanschot.com
Johan's latest books: