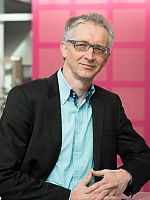 Professor Johan Schot, Director of SPRU, has been awarded the Leonardo da Vinci Medal, by the Society for the History of Technology (SHOT) for his outstanding contribution to the history of technology.
At an award ceremony on Friday 9 October, SHOT acknowledged that Johan's leadership of several large-scale international collaborations had not only advanced strong scholarly programs involving international collaboration, but also enabled historians of technology to make significant public policy contributions within broad interdisciplinary conversations.
Johan's work as a historian of technology has almost always involved projects of large scope and scale with multiple partners and investigators, including:
Johan has also published widely on technology and social change through a number of articles, book chapters and books. Johan said: 'I feel therefore privileged and honoured to be awarded the Leonardo da Vinci medal. It feels like a recognition from my history of technology soul mates, which is especially important precisely because I so often travel far away from my roots, and then wonder whether historians of technology would still accept me when I come back. It is great to feel they value my work so much. As Director of SPRU, I aim to continue to weave history of technology insights into my work on transitions to sustainable development.'
Read Johan's address 'The Historical Imagination', given at the annual meeting of the Society for the History of Technology, Albuquerque, USA.
The Leonardo da Vinci Medal is the highest recognition from SHOT. Previous winners of the award include: Nathan Rosenberg, Tom Hughes, Ruth Schwarz Cowan, David Hounshell, David Nye, Wiebe Bijker. The Society is dedicated to the historical study of technology and its relations with politics, economics, labor, business, the environment, public policy, science, and the arts.
Date: 12.10.2015