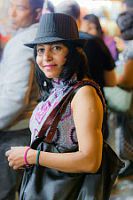 Dr
Laila Kadiwal
Biography
I am an interdisciplinary sociologist and educationalist with particular interest in religion, globalization and international education. Professionally, I have been involved in teaching, researching as well as managing and evaluating educational programmes.
Role
Research Fellow (UNICEF-funded Consortium for Research on Education and Peacebuilding)
Community and Business
May 2013 Tutor, ERASMUS Staff-exchange, Gothenburg University, Sweden
Delivered presentations on 'Hybrid research methods' for students and staff members at the Department of Education and the Department of Sociology.
June-July 2012 Tutor, researcher and research supervisor, Harvard-Oxford-Beijing Programme, Beijing Normal University, China.
Conducted a series of workshops on qualitative research methods and supervised individual and team-led qualitative research projects.
Collected data through focus groups and interviews for the research project on 'Higher education in China led by Dr. Jannette Ryan, Higher Education Academy, UK.
2009-2010 Research Assistant, Institute of Ismaili Studies, London
Designed and conducted student experience and programme evaluation surveys.
Coordinated field evaluation in six countries (UK, USA, Canada, Tajikistan, Pakistan and India).
Qualifications
Academic Qualifications
2010-2014 Doctor of Philosophy (School of Law, Politics and Sociology), University of Sussex
2008-2009 MSc in Higher Education, University of Oxford (Result: Distinction in both final exam papers).
2006-2009 Graduate Programme in Islamic Studies and Humanities, Institute of Ismaili Studies (Result: Valedictorian, GPA 3.66/4.33).
2000-2001 Post-Graduate Diploma in Human Resource Development and Management, St. Xavier Institute of Management, Mumbai, India.
Teaching Qualifications
2011 Starting to Teach in Higher Education, University of Sussex, Brighton, UK.
1996-1998 Certificate in Teaching and Education Management, ITREB India, Mumbai, India.
1998 Certificate in Visiting Teachers' Programme, Institute for Educational Development, Aga Khan University, Karachi, Pakistan.
Activities
Rider, British Heart Foundation London to Brighton Bike Ride (57 miles apx.) (2011 & 2013)
Mediator, Brighton and Hove Independent Mediation Services (2011)
South Asian Student Support Officer, International and Study Abroad Office, University of Sussex (2011-2012)
Co-organizer, Postgraduate Conference for Law, Politics and Sociology School (2012)