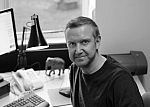 Dr
Nigel Eltringham
Biography
Nigel received a first degree in History from St Andrews (1993), an MPhil in Development Studies from Cambridge (1995), and a PhD in Social Anthropology from the School of Oriental and African Studies, London (2001). He also taught at SOAS, where he held an ESRC postdoctoral research fellowship.
He is the author of three monographs: Accounting for Horror: Post-Genocide Debates in Rwanda (Pluto Press 2004); Genocide Never Sleeps: Living Law at the International Criminal Tribunal for Rwanda (Cambridge University Press, 2019), and The Anthropology of Peace and Reconciliation: Pax Humana (Routledge 2021).
He is contributing editor of Identity, Justice and "Reconciliation" in Contemporary Rwanda (2009; a special issue of the Journal of Genocide Research); contributing editor of Framing Africa: Portrayals of a Continent in Contemporary Mainstream Cinema (2013) and contributing co-editor of Remembering Genocide (2014).
He has held visiting lectureships at the universities of Gothenburg (2011) and Cornell (2017). He served as Executive Secretary and then Vice-President of the International Network of Genocide Scholars (2010-2015).
He has worked extensively with the office of the Special Adviser of the UN Secretary-General on the Prevention of Genocide, providing genocide prevention training.
A full list of publications is available here.
Community and Business
Nigel Eltringham Impact Statement: Aiding the prevention of genocide in the Great Lakes Region of Africa