Develop your knowledge and understanding of fundamental physics laws and principals and the ability to apply them, an analytical approach to problem solving, and effective use of IT for analysing data. Develop the ability to work independently, work to tight deadlines and develop skills to communicate scientific information. All of these are highly prized by employers. You'll get the opportunity to learn research skills which will help prepare you for a career in research.
Joint 1st in the UK for Career after 15 Months in Physics
97% of our graduates find graduate-level jobs, or are in further study at professional or HE level, within fifteen months of graduation (The Guardian University Guide 2022).
---
Graduate destinations
As a Physics graduate you can enter a wide variety of fields, including becoming a professional scientist in industry, government or academia, and your broad training means you can cross over into other scientific and technological disciplines.
Other career options include the financial sector, where physicists' ability to handle complex abstract models is particularly valued. Your analytical training also makes you suitable for careers in law, consultancy and business management.
Our MPhys degrees are perfect if you are planning a career in science or who want to go on to a higher research degree.
Many of our recent graduates have also gone on to study for a PhD at Sussex or other top interational universities.
Find out more about what to do with a Physics degree and in which jobs/sectors some of our recent Physics and Astronomy graduates have started working.
---
What are some of our graduates doing now?
Jessie on her PhD at Max Planck Institute for Astrophysics in Garching, Germany
What is your background?

I studied for a while to be an opera singer and then decided to leave and do a foundation year in Physics at Sussex. I loved my foundation year so decided to continue and did an MPhys Physics with Astrophysics (Research Placement) working with Prof Peter Thomas predicting gravitational waves from galaxy simulations.

What are you researching and what does it involve?

Currently, I am in my final year of my PhD at the Max Planck Institute for Astrophysics in Garching, Germany. I am working on high resolution simulations of individual dwarf galaxies, particularly looking at the properties of star clusters.

Did your degree help you with your current career?

My degree gave me all of the varied background knowledge that is absolutely vital for doing a PhD, but what really helped me was the research placement at Sussex which I completed during my summers, as well as my MPhys final year project. Being able to do original research with excellent scientists really taught me so many invaluable skills, meaning I started my PhD with a really solid foundation and good practises in how to do research.

During my degree, I was recruited by Prof Kathy Romer to work on the Dark Energy Survey (DES) project which gave me extra income as well as amazing experiences such as being able to go to my first conference and working within an international collaboration, as well as having to keep secrets such as some of the gravitational wave detections!

How does being a PhD student compare to being an undergraduate student or a working professional?

Undergraduate degrees are full of constant deadlines and exams, and I always preferred the more open ended relaxed format of research whilst I was still studying. However, being nearly at the end of my PhD now, it's basically a big module stretched out over 3-4 years, and I actually really miss doing my undergraduate studies. I miss the constant feedback and being able to tick things off a list. I quickly realised the discipline I learnt during my undergraduate degree at Sussex was so important to implement for myself during my PhD as well. You are an almost independent researcher and you have to set your own deadlines, and at times it's really tough, but extremely rewarding. When I'm feeling a bit deflated, I look back at pictures of me from my MPhys graduation ceremony and my final day at Sussex and just remember how far I've come and I feel really proud of myself.


Jessica May Hislop
Physics with Astrophysics MPhys (Reseach Placement)
Daniel on his career as a Postdoctoral Researcher at the University of Helsinki

"I started working in my field of research during my Masters project at Sussex. In my work I study some of the most energetic events in the early Universe, cosmological phase transitions. In a cosmological phase transition, the Universe changes state through the formation of bubbles, similar to when water boils. When these bubbles collide, they can leave an imprint in gravitational waves that might be detected at future space based gravitational wave observatories. I enjoyed my Masters project so much that I chose to do a PhD on the subject and I now work as a researcher at the University of Helsinki in Finland.

I really enjoyed my time as an undergraduate at Sussex, so much so that I stayed and did my PhD within the department. The lecturers are all experts in their own field of research and there are plenty of opportunities to get involved as an undergraduate in research or outreach projects. Brighton is an excellent place to live, and the Falmer campus is in a beautiful location in the South Downs National Park. What made studying at Sussex so special was the real sense of community among the students, both within the department and also the wider student body. Many of my happiest memories are from my undergraduate days at Sussex."



Dr Daniel Cutting
Theoretical Physics MPhys and Physics PhD graduate

Nathan, on his graduate technology consultancy role with CPS

Nathan talks about his graduate role with CPS, an information, technology & services consultancy, and the interview process:

"In October 2020, I sent in my CV to GRB who were advertising a graduate technology consultancy role. A recruiter from GRB reached out to me and after a pre-screening telephone interview, I was put forward to attend a virtual assessment day with CPS. CPS were hiring based on potential and personality so during the recruitment process there were no requirements for me to have any prior experience within the job role or the technical skills beforehand. A week after attending the assessment day, I had a final follow-up interview and was offered the role!



In December, I started a graduate job with CPS as a Modern Work Management (MWM) consultant. As someone who has come into the role with limited experience of consultancy and Microsoft applications beyond Office 365, I am finding myself utilising the technical acumen and soft skills that I had developed over the course of my Physics degree at Sussex to quickly learn and succeed in unfamiliar territory. Within the MWM space especially, I am currently spending most of my time learning about project management and gaining technical mastery over Microsoft applications, such as MS Project and Power BI. As part of my role, I will eventually be working with clients on-site to help them deliver business solutions using these Microsoft technologies."

Nathan Mak
Physics MPhys (with a study abroad year at Uppsala University, Sweden) 2020 graduate

Charlotte, on her career in a software startup




What was your first position after graduation?

When I graduated from Sussex I was unsure what industry I wanted to work in, but knew I wanted to improve my programming and analytic skills. I worked at an insurance company as a data scientist, writing propensity models. It was a great introduction to what roles were available and made me realise I had a passion for programming to solve real-life problems. I spent 18 months there building up my technical skills before moving to Quantexa, a FinTech start-up (~20 people) as a data engineer

Tell us about your current career and what you're involved in

I have now worked at Quantexa for nearly four years, and during that time have worked across a number of departments! Quantexa is a software company, providing entity resolution and network analytics software, which is predominantly used by banks in anti Financial Crime use cases. As banks typically have a complex infrastructure with many legacy systems already in place, new software installations can take anywhere between 6 and 18 months to complete. As a data engineer I was responsible for taking banks' data, putting it through an ETL process to ingest it into our software, configure entity resolution and write analytical models to detect financial crime. This was a very exciting learning curve, as we work with a lot of cutting edge open source software and tooling such as spark, scala, hadoop, elastic, kubernetes, helm, airflow and kafka. Due to the small size of the company, I had exposure to all of these across a range of projects. I think that everyone should work at a start up at some point in their career!

From working on these projects, I realised that one thing I immensely enjoyed was explaining these complex analytical processes to non technical audiences, such as the senior stakeholders at banks, and ensuring they understood the value of the system(s) they were implementing. I spent the next 18 months as part of the Solution Engineering team, eventually focussing on running pre – sales for the ANZ region after a successful 2 month secondment where we signed two new clients. One of the highlights of my career has been pitching to the CRO of one of the big four banks in Australia, showing them the value that they could achieve from using our software.

Now I am the Head of Solution Success for Australia & New Zealand, where I have a responsibility and accountability for the success of the projects currently underway, as well as ensuring that existing clients continue to realise value from our engagements. These relate to multi million pound licences covering everything from solutions for onboarding new customers to identifying human traffickers and terrorists. Every day is a different challenge, and I constantly rely on my technical background to allow me to solve complex business problems, and work with all departments across the organisation, from solution architects to sales to product management to engineering teams.

Would you recommend Physics at Sussex to someone else?

Absolutely! Not only did the course provide great foundations for my career, but there were also many different options available to me in terms of specializing including theoretical physics, financial physics, and programming.

In addition to the educational aspect, there is also a great social side and many of my closest friends are ones that I met on my course. Brighton is an amazing city (I am still here 5 years after graduating!) with a wide range of sports and social clubs on offer. I was pregnant during my third year and had my son in the first week of my Masters. Down to the excellent pastoral care and flexibility of the department, I was able to finish both my undergraduate and postgraduate MPhys with no delays.

Charlotte Evans
Physics MPhys graduate

Sam, on working on laser satellites for Airbus and developing his own project, The Climate App

Sam graduated in 2009 and is currently working with Airbus on a new propulsion system. Last year he set up 8Billionminds with volunteers, which was the first worldwide live learning platform designed to to connect people around the world to learn and share information with each other.

Last year, he came up with an idea for making carbon-cutting fun, easy and social and founded The Climate App, enabling people worldwide to change their behaviour that will affect change.

Read more about his work on The Climate App and how he hopes it will help fight the climate crisis.

What was your first position after graduation and what did it involve?

I taught on the Physics International Summer School as well as some private teaching. I then joined Team Evolution spending several months in Austria skiing in the mornings and teaching physics in the afternoons.

I was then successful in joining the International Space University and part of this was to complete a placement. I completed mine at NASA in California where I was able to design a mission to Enceladus in search of life: www.newscientist.com/article/mg23631533-900-private-mission-may-get-us-back-to-enceladus-sooner-than-nasa/ . This was a fantastic opportunity to work with some of the world's best minds – I pitched the mission to NASA and it was successful.

Does your degree help you with your current career?

Being able to break down a very complex problem in to small manageable chunks. I learnt to believe that I could do this and this has helped me not be overwhelmed with huge problems since. I was able to learn theories and certain truths from physics and this helps to find answers. The degree course gave me a foundation that I have used since enabling me to progress, have the confidence to tackle the NASA work, and become trusted by experts.

Did you acquire other skills useful for your current career whilst a student?

I was not the best at physics and so the course had a good balance of soft skills development. The environment at Sussex and in Brighton is such a unique place. I have since travelled the world but Brighton is still, in my mind, such an amazing place. The University of Sussex attracts fantastic professors from all over the world. Sussex is diverse with a mix of arts and science with a real sense of community.

Would you recommend Physics at Sussex to someone else?

Yes, definitely. It was a perfect balance of science and social.

Would you recommend your line of work to someone else?

My work at Airbus is very interesting – working with laser satellites is a potentially growing field and so very exciting that I am a part of it. I am fortunate that the work with Airbus allows me to work on my own projects so from that perspective I would definitely recommend it. It is really hard work but the satisfaction and empowerment gained is very rewarding. I am proud that the work I do has the potential to impact communities and the world. I believe that if you are passionate about something, you do it!

Sam Naef
Physics BSc graduate

Dominic, on his career in programming

What was your first position after graduation?

After graduation I found a job with a company called Best Execution who sold trading platform software to the London Stock Exchange. I managed to get the job because of the C programming module in my 3rd year, so when I had the technical test it was all very recent knowledge. The job itself required maintaining the companies existing software, and only under really stringent observation from a senior developer. The work wasn't massively varied; I'd get in each morning, there would be a bug for which a solution needed to be found as soon as possible. I would do the research necessary to work out why the bug existed, and take sufficient notes that I could then go to the Senior Developer and say, "this is the problem, this is the reason, these are our options". The position only lasted a year when the company got bought out and the majority of the staff were made redundant, but I was taught about multithreaded systems and rudimentary system architecture over a number of different programming languages.

Tell us about your current career and what it involves

I'm currently the Technical Director for a company called BuilderStorm. BuilderStorm could best be described as a construction management platform, that is, we help our clients handle building projects from their inception through to completion. I lead the development team handling client feature requests, business as usual, and understanding where the business is going in the future. From my degree I've found that a head for numbers is beneficial, even just being able to ballpark a figure has saved time when resolving issues. I put my systems architecture knowledge down to career experience, but I still find that the rigour of my physics degree means my solutions are more robust.

Would you recommend Physics at Sussex to someone else?

I would highly recommend Physics at Sussex, with the caveat that it doesn't require that the person be a physicist afterwards. Reading Theoretical Physics at Sussex gave me the correct mindset for handling a multitude of challenges across a number of different disciplines.

Would you recommend your line of work to someone else?

Regardless of whether the person is analytical or creative I would recommend a career in programming. There are countless positions within the realm of software engineering, from visual effects through the nanosecond computation developers. During such a career the person might find that there's an aspect of Computer Science that is alien to them, but I've found that it's generally easier for a physicist to understand an aspect of computer science, than it has been for a computer scientist to understand physics.


Dominic Orme
Theoretical Physics BSc graduate

Joe, on his career in financial planning and analysis at Aviva

What was your first position after graduation?

I spent some time as a supply teacher, teaching physics at a secondary school. I'd already spent some time working as a lab tutor during a summer at Sussex. Both gave me insights into teaching, without having to commit to a PGCE. I did enjoy the roles, and I learned plenty of skills that I ended up taking into other directions. But I also learned that it wasn't quite what I wanted for a long-term career.

Tell us about your current career and what it involves

I work in FP&A (financial planning and analysis) within Aviva. I got to where I am by chance — I didn't start in finance. I actually started within the industry on a graduate talent programme, which posted me into a data science role; I had no idea I'd move into finance, but a year later, I took up a new role and moved to Ireland, and did exactly that. I initially worked as a business analyst and did some finance business partnering work, pulling together insights and helping the business understand some strategic changes it embarking on. I then moved full time into FP&A.

FP&A is what it sounds like: planning and analysing. The planning part means forecasting what numbers we'll hit, i.e., how much profit we'll make, and what actions we need to take to get there. The analysis part is working out and telling the story of what's happening: how we're shaping up against plan and what the drivers of variance have been, then tailoring that message to the audience, such as the Board or CFO. It can be challenging and there's plenty to juggle, but it gives you an incredibly broad view of everything that's going on within the business.

Did your degree help with your current career?

Yes, without a doubt. The skills that you gain are enormously varied and invaluable. On a typical day, I might need to think logically and build a model, analyse data, apply some maths and statistics, juggle competing priorities, write a bit of software, collaborate with others, work independently, and then present everything I've done to an audience whose knowledge base can be very different to my own. The magic of physics is that you get to do all of those things, and you pick them up without realising you've actually picked them up.

It has meant that, despite not being a statistician or accountant, I've been able to walk into data science and finance roles, and have been able to deliver from near-as day one. I don't think I'd be able to say that if I'd studied something else.

Would you recommend Physics at Sussex to someone else?

Without caveats, yes! Physics MPhys is a great course. Sussex is a terrific university and Brighton is a great place to live. The course itself is a gem, too. Tutors are supportive, and the curriculum blends rigorous physics with skills that you can apply to whatever endeavour you turn your eye to.

Would you recommend your line of work to someone else?

I'd recommend all the areas I've worked in over the years, just not everything to everyone! FP&A can involve a lot of juggling, and that won't suit everyone. There's also a huge focus on storytelling, so if you dislike writing or building out presentations, while I'd encourage you to step out of your comfort zone, it may not be a role that you instantly thrive on. However, if you're interested in flexing some of your technical skills whilst polishing your soft skills and building an incredibly broad understanding of a business, I'd definitely recommend it.

Joe Perkins
Physics MPhys graduate

Adam, on working as a data engineer

What was your first position after graduation?

My first job was trying to figure out how to put GPS inside of golf balls, based in Melbourne, Australia. A couple of guys had an idea of using a mobile application to find their ball and get metrics like distance, speed etc and needed a physicist/engineer to see if it's possible. At the time the answer was no, but it was fun to work on.

Tell us about your current career and what it involves



Post university I have worked in copywriting, analysis and for the past few years as a data engineer. Data engineering is a heap of fun, setting up the systems, automation and infrastructure to capture, store, move and give access to data within a company so they can refine their products and make informed data-driven decisions. Everyday you get to solve problems and apply that logical of brain of yours to figure things out and come up with elegant solutions. During university we had programming modules on things like Matlab and Python. I use Python almost daily. In all honesty programming didn't appeal to me at the time but studying physics gives you research and problem solving skills which enabled me to pick it up and see how enjoyable a career it can be.

Would you recommend Physics at Sussex to someone else?



Sussex is a good choice regardless of subject, but the departments of Mathematics and Physics & Astronomy in particular had more of a collaborative, welcoming and social culture than any other I saw. Yes, you'll have the opportunity for a great education, but university is where you'll actually grow up and Sussex is a fantastic incubator for it.




Adam Dewberry
Physics MPhys graduate

Will, on doing a PhD in Computational Astrophysics at Sussex

What is your background?

Before undertaking my degree I worked in several settings including retail, catering, music and teaching music. Eventually, I decided I needed a change and (embarrassingly) I was watching a lot of documentaries on astrophysics at the time so decided, somewhat on a whim, to do a physics degree. There was one issue with this though: my A-levels were entirely unrelated. This meant I had to not only do a foundation degree but also an access to higher education course to get onto the degree.

I did the access course, managed to get my place on the foundation year and then spent the next 5 years at Sussex working towards my undergraduate degree with an integrated masters in Astrophysics. The foundation year was brilliant. Despite having been out of education for many years, the teaching was fantastic and prepared me for the main degree far better than having the correct A-levels possibly could have done. In the first year of my degree, I had my son. I'd be lying if I said this didn't present its challenges but without a doubt, it motivated me to work as hard as I possibly could. I then went on to complete my degree at Sussex, having a lot of fun along the way, before deciding to continue onto a PhD in Computational Astrophysics at Sussex.

I am now in the 2nd year of my PhD, still enjoying every second, and have had a daughter, helped write and develop the year 1 Python module taught as part of the physics degree at Sussex, taken on a role as an Outreach Development Officer and become the organiser of the Sussex Universe Lecture Series, a series of outreach lectures presenting Sussex research to the general public and something I had been involved in as an undergraduate.

What are you researching and what does it involve?

My research focuses on the formation and evolution of the first galaxies to form in the Universe. What do they look like? How does their environment affect their properties? What will we see when we launch the next generation of space telescopes and probe the depths of the Universe?

To do this I use cosmological simulations, these are run on cutting edge supercomputers (high-performance computing clusters) utilising public simulations codes like GADGET and SWIFT to reproduce volumes of the Universe. My work involves lots of coding, mainly using Python. This coding is used to produce analytics to describe the galaxies we simulate and to create tools for the simulations themselves.

Did your degree help you with your current career?

Without a doubt it did. I hadn't considered that my current work was a career path before my degree and not only did it show me the myriad paths I could take but it prepared me very well for those numerous paths. I use many different aspects from the modules I studied during my degree daily.

Beyond the imparted knowledge, my degree offered me a variety of opportunities to get involved with research. During two summers of my degree, I took part in the Junior Research Associate (JRA) scheme. These not only showed me what working as a researcher was like but also gave me a head start on developing skills vital to being a PhD student. When it came to PhD interviews this experience came into its own allowing me to articulate mature research, when most only had recently started final year projects to discuss. One of these projects has led directly into my PhD topic with multiple papers on the horizon using code and experience I gained in that project; the other project has already led to a paper published in Monthly Notices of the Royal Astronomical Society with lots of future work planned.

I would honestly be nowhere near where I am today without these opportunities and consider myself very lucky to have been able to take advantage of them.

How does being a PhD student compare to being an undergraduate student or a working professional?

As previously mentioned, I worked in various settings before eventually deciding to do a degree. One of the things that always irked me in these workplaces was the lack of variety and long term goals. This was all rectified in my undergraduate degree by having a clear progression towards a goal and the variety I desired. This satisfaction continued into my PhD; being in control of my own time and balancing a varied workload that constantly works towards varied goals is hugely rewarding.

Being a PhD student is clearly different from being an undergraduate, with an increased level of autonomy, and the lack of assignments and constant lectures. However, there is actually a considerable amount of cross over. Especially since I focused on research possibilities during my degree. The assignment deadlines are now deadlines to produce papers or research contributions (although are considerably less numerous than undergraduate assignments), and the lectures are now seminars and journal clubs detailing cutting edge work in various fields.

Would you recommend Physics at Sussex to someone else?

Absolutely, it's a wonderful department, full of wonderful people. I really enjoyed my time here, as should be clear by my decision to stay on at Sussex after 5 years for 3.5 more years as a PhD student.

Would you recommend your line of work to someone else?

This is a harder question. I would absolutely recommend research to anyone. It's hugely rewarding and all the more so when you get the chance to make an impact on something you care about, but only if you're the sort of person that relishes expanding your knowledge regardless of any obstacles you meet in that pursuit. It's not for everyone but I wouldn't be doing anything else and I'm sure the naturally curious would feel exactly the same as I do!

William Roper


Astrophysics MPhys graduate and currently doing a PhD in Computational Astrophysics at Sussex.

Mark, at BAE Systems Applied Intelligence as a Technical Consultant

What are you doing now and what does it involve?

I am a Technical Consultant at BAE Systems Applied Intelligence. I specifically work in a Business Unit called NetReveal which specialises in software to detect and prevent fraud. I am currently working on an installation for a major banking client which involves lots of programming and problem solving.


Why did you apply for the job you are in now?


My current company actively hire Physicists. This was a great opportunity for me as I wanted a technical role in IT.


Does your degree help you with your current career?


Definitely. Problem solving is the main thing that I took from my degree as I have to deal with new problems every day. Programming courses in Matlab and C++ at university helped me understand the logic of programming languages, and although I use different languages now, those courses helped me with the fundamentals.


Did you acquire other skills useful for your current career whilst a student?


I also have a lot of client interaction, so inter-personal skills I learnt at university, through things like working on open days and participating in various student committees, have put me in a good position for this.


Would you recommend Physics at Sussex to someone else?


I would. University is about so much more than just the academic side now. You need a good all-round department and university, and you certainly get that at Sussex. The social scene is great, there are lots of opportunities to get involved with committees and societies, and the careers advice and opportunities are great.


Would you recommend your line of work to someone else?


I would. I get to do many different things in a job I enjoy.

Mark Carter
Astrophysics MPhys graduate

Sam, as a Senior Radiation Environments Engineer at Surrey Satellite Technology Ltd

What are you doing now and what does it involve?

I'm working for Surrey Satellite Technology Ltd as a Senior Radiation Environments Engineer. Energetic charged particles in space can induce a variety of problems in spacecraft electronics and materials. The effects can range from temporary upsets to permanent damage and mission failure. I am responsible for the radiation hardness assurance of SSTL's spacecraft. This involves several tasks such as:
- The definition of the space radiation environment along a spacecrafts
orbit using established models
- Providing support with the design of the spacecraft and choice of
electronics and materials to withstand their environment. This normally
involves providing a minimum shielding level for the electronics and
ensuring the correct radiation verification tests have been performed on
the components and/or the correct mitigation techniques have been
considered in the design
- Review of subcontractor's analyses and test reports to determine
whether components meet customer/internal requirements and hence are
acceptable for the mission.

Is it what you expected? If not, is it better or worse, and would you recommend it to someone else?

I did some similar work in a previous company, however there were several more people on my team and I didn't have as much responsibility as I do now. It's a lot better than I expected; it is a pleasure to work with everyone in my team, across the company and several people from companies all over Europe. I enjoy travelling on a regular basis to visit customers and to attend conferences. I enjoy the fact that the work is technically and logistically challenging and each day is never the same. There are a lot of young, intelligent and motivated physicists and engineers at SSTL and you can tell we all have a passion for space! It's an inspiring place to be and everyone is a lot of fun.

Why did you apply for the job/course you are in/on now?

I saw the job advertised online; it was closer to home, better paid and was in the same technical area as my last job but with more responsibility and mission focus. It would have been silly not to go for it.

Did you acquire skills when studying for your undergraduate degree that help you with what you are doing now?

I do use things directly from my degree (such as particle physics knowledge and computing skills) but it's mainly the skills I learnt during the degree such as; problem solving, picking things up quickly and sorting through information efficiently that help me to succeed. Mphys labs and skills were very beneficial because you're not held by the hand, you're left on your own a bit more, which is closer to the situation at work or as a researcher.

Did you acquire other useful skills whilst an undergraduate?

Team work, communication and relationships with your colleagues are very important. To develop these sorts of skills experimental labs were good as we had to work with a partner. However I think that my time as a student mentor and representative of my year on the Departmental Joint Committee were invaluable; I am very confident in meetings because of the experiences I had in these roles at Sussex.

In hind sight, would you have done anything differently as an undergraduate?

The MPhys Physics with Astrophysics degree at Sussex was right for me. I have concentrated in particle astrophysics during my career directly as a result of the courses I specialised in. But a physics degree opens many doors and you never stop learning after your degree; I find that I am learning more in the areas of device physics and electronics now.

In hindsight I should have kept up my French and I would have liked the opportunity to do internships at several companies during my undergraduate degree. I think internships are really beneficial as they allow you to understand what it's like to work for a company, get good experience on your CV, improve your skills and you can become useful more quickly to an employer than a fresh graduate with no experience. The majority of graduates from Europe who work in the space industry
have several internships on their CV's and are fluent in several languages! In today's harsh climate for graduate jobs I think an internship can make all the difference.

Anthing else you'd like to mention?

Think about jobs long before you graduate! Make sure you have a good CV and send it out to every job that sounds interesting. Use your contacts! Attend lots of interviews, even if it's just for the practice and ask lots of questions so you get a good feel of the atmosphere of the company to see if you'd fit in.

Sam Rason
Physics MPhys with Astrophysics graduate

Matt, on working as a Plasma Physicist at a government-funded research organisation

Matt Hill is a Plasma Physicist at a government-funded research organisation. He studied MPhys Physics and said his degree provided him with a good base for his future career:

I began my PhD at Sussex immediately after finishing my degree there; having spent four years in the Department I knew that I would be well supported and that the environment would be friendly, relaxed and constructive. My MPhys final year project formed the basis of my research, which aimed to probe Einstein's theory of special relativity by exploiting a quantum mechanical trick in atomic physics, known as 'slow light'. The experiment involved getting to grips with the tools of quantum optics: lasers, low pressure atomic vapours, magnetic shielding and a great deal of patience!

My MPhys degree provided me with a good base from which to start my PhD research - the undergraduate labs showed me the importance of careful experimental design and assessing uncertainty, and the atomic physics and quantum mechanics courses gave me the theoretical tools I needed. Even my astrophysics courses came in handy when it came to the relativity aspects of the research; as an undergraduate I had chosen the courses I found most interesting, so I was pleasantly surprised when I was able to bring them all together (and that the hours of doing problem sheets hadn't gone to waste!). I found demonstrating in the undergraduate labs to be very rewarding - it was a little strange being on the other end of the red pen at first, but both I and the other new postgraduates were all a little shocked at how much we had picked up during our degrees, without even realising it.

After a year at Sussex our group had to move to Leeds, where I spent another 2 years setting up the new lab and doing experiments. During this time I continued to develop a wide range of skills, including computer modelling, experimental techniques, presenting my work in talks and writing reports. Anyone would find these very useful, regardless of whether they were going on to a research career or not, which is why I am so grateful to the physics department at Sussex for providing such a variety of courses during my degree. I also built up a large network of contacts, which has gained me new friends as well as many useful professional relationships around the world - of course, all of this makes you much more employable when you start job hunting!

I began looking for jobs in both academia and industry while writing up my thesis; I feel very fortunate that my degree and PhD allowed me to apply for a wide range of jobs in many areas I found interesting, despite the difficulties many others were having finding work. I was invited to an interview within a month of starting to look, and was phoned on the drive home to be offered the job!

I now work as a Plasma Physicist at a government-funded research organisation, looking at how matter behaves at the very high energies found in the cores of stars and planets. The work is very rewarding and has allowed me to carry on developing the skills I first picked up at Sussex.

Looking back, I know that Sussex was the best choice I could have made - I have honestly found nowhere else where I would rather have done my degree. I am still in touch with most of my undergraduate classmates and we all agree that the atmosphere, attitude and faculty at Sussex, as well as the amazing culture and nightlife in Brighton, made it the perfect place to spend as many years being a student as you can get away with!

Matt Hill
Physics MPhys graduate

John, on working as a cyber security consultant for PwC UK

John Treen is a cyber security consultant for PwC UK. He said his degree helped him in his role:

I'm in my first job after graduation as a Cyber Security Consultant for PwC UK. The job involves conducting penetration tests which is ethical hacking. This is to help clients look for security weaknesses in their computer systems to gain insight on how to improve their security.

I was always interested in computers. After graduation, I had an open mind and had not made a decision on what sector to enter. After browsing several job adverts, I saw this one and it seemed interesting. Hacking seemed like a cool thing to do for a living and I was excited by the opportunity of working with a wide range of clients.

I completed multiple modules in programming and maths, which I use in my every day role. Furthermore, the degree taught me problem solving and analytical skills, which I still use daily.

There were a couple of modules directed towards developing soft skills such as the dedicated careers module in year two which helps guide students towards developing their resume. In addition, there were multiple presentations throughout the course that involved presenting to a group, which helped develop my public speaking skills.

The faculty and staff of the department are supportive and friendly. They were always helpful, knowledgeable and willing to render support. They gave good feedback and also the facilities provided by the department were fantastic.

I find the job very exciting as I face a different problem every day. This career has a great future as technology keeps advancing and the cyber security sector can only get bigger.

John Treen
Physics MPhys graduate

Stuart, on working as a software developer at Rutherford Appleton Laboratory

Stewart Martin-Haugh is a software developer at Rutherford Appleton Laboratory. He studied Experimental Particle Physics:

My first position post-graduation was a software developer for Rutherford Appleton Laboratory, and I'm still there today. I work on the ATLAS experiment with the LHC. I write software to keep only interesting data and then discard the rest. The data is then used to search for evidence of new particles and better measure those we know.

While doing my PhD, I was already involved with the ATLAS experiment. I particularly enjoyed the technical aspects of work on the experiment and was excited to continue working in that area.

I gained a great deal of technical knowledge on my PhD particularly in particle physics. The year I spent at CERN during my PhD was extremely valuable firstly in getting exposure to the job and for networking with various people in the field.

There were regular experiment meetings when I was a student, and I'd often have to prepare results and present them at short notice. This is a valuable skill, which I have used multiple times in my current role.

I had a very good time at Sussex. The department is great and there are so many different branches of physics within the department itself. Furthermore, the university is in a wonderful location, close to the South Downs and also to Brighton city itself.

I love what I'm doing and it's definitely working out career wise.

Stuart Martin-Haugh
PhD in Experimental Particle Physics

Mark, working as a data analyst for ThanksBox

What was your first position after graduation and what did it involve?

My first job after my degree was as a Catalyst team member for the Sussex Innovation Centre. I worked on various projects for the new centre; Sussex Innovation Croydon and multiple start-up companies including UKRIO, 3nStrategy, SME Needs and Thrivo.

What are you doing now and what does it involve?

I work for ThanksBox as a data analyst both internally and producing reports for clients. Internally this allows me to inform and own some decision making within inbound marketing, sales and product.

I'm working towards formalising some of the skills I've been developing and moving towards a product management style role in the analytics side of the ThanksBox app. the app.

Why did you apply for the job you are in now?

From my first job at the Sussex Innovation Centre, I worked with ThanksBox and really enjoyed the direction of the company, the people and decided to join them.

Does your degree help you with your current career?

A Physics degree teaches many skills that open up a wide range of job opportunities. I have really used the research methods and critical thinking skills gained on my degree. The analytical skills taught have also proved invaluable.

Did you acquire other skills useful for your current career whilst a student?


Having to work closely with my peers helped develop interpersonal and communication skills which are very useful for day-to-day life.

Would you recommend Physics at Sussex to someone else?

Yes. There are many extracurricular opportunities offered. I did a summer placement in my 1st year, an IOP research placement in my 2nd and taught in the summer school during my 3rd summer.

Furthermore, the environment is great! Very conducive for studies and collaboration.

Would you recommend your line of work to someone else?

Yes, the role is unusual but is very interesting. The career advisory team is incredible, approach them and they will definitely help you as much as possible.

Mark Davies
Theoretical Physics MPhys graduate
---
Hear from our students
---
Careers support
As a student, you can access a range of services through our Careers and Employability Centre. You can get individual career support or attend employer events and career talks specifically for Physics students, including:
Careers Fair: We organise an annual fair giving you the opportunity to meet and find out more about employers that are particularly interested in physics graduates as well as other mini careers fairs throughout the year.
our Career development course: we offer second year students a course on the fundamentals of successful career development.
in-house careers events: we organise numerous events throughout the year giving you the opportunity to hear from Sussex and non-Sussex graduates and employers about careers and job prospects.
advice and support from our in-house Employability advisor/SEPnet Employer Liaison Officer who has developed links with local employers and gives support in securing placements and internships. They also run events such as 'Meet the Employer' giving you the chance to network and build relationships with local employers, apply for placements and jobs. Other typical activities include competitions, mock webcam interviews and feedback, webinars and visits from local employers giving extracurricular presentations.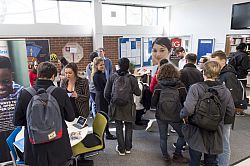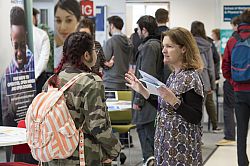 ---
Other opportunities:
our MPhys students can complete a research placement with Sussex researchers during the summer vacation, which provides a unique opportunity to learn about research methods and practices at the same time as developing your knowledge and understanding of Physics and/or Astrophysics.
extra-Curricular Activities. You can get involved in all the Student Union activity clubs and societies, and develop a range of skills that employers value.
career-related vacation work will enhance your future employment prospects. In addition, it offers other advantages such as finding out whether you really like a particular kind of work or company before you graduate. Work experience helps you get more out of your degree. It gives you a chance to see how your courses are relevant to the world of work, and can motivate the work you do at University.
---
You might also be interested in:
---
Contact us
Physics and Astronomy
ug.admissions@physics.sussex.ac.uk