Are you excited about Physics or Astronomy? Do you seek an intellectual challenge in a stimulating environment? Do you want to learn the subject from researchers working at the state-of-the-art on some of the most outstanding questions about nature? Are you aspiring to work as a scientist in academia or industry?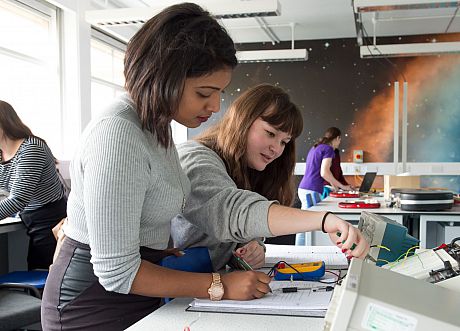 Ground-breaking research
You will get to work on ground-breaking discoveries alongside our expert faculty, on research placements, summer projects and in research labs during your individual or group final year projects. Find out more about undergraduate research opportunities. Read about our world-leading research.
Supportive community and lively Physics Society
Our labs and popular student spaces provide a supportive and welcoming environment, where students and faculty can meet, debate and exchange ideas. Q-Soc, our lively Physics Society, delivers an exciting programme including trips to London and Brighton, student balls, pub crawls, games and film nights. Find out more about life as a Physics and Astronomy student.
Corona Virus (COVID- 19) - Advice for Applicants
We understand this is a complex time for anyone who is looking to progress their University of Sussex application. We are here to support you however we can and we hope the following answers to some common questions will help you. Find out more
---
"If you are considering studying Physics at Sussex, it is a decision you will not regret. The rewards are truly astronomical."

Jessica Collier
Physics MPhys
---
---
You might also be interested in:
---
Contact us
Physics and Astronomy
ug.admissions@physics.sussex.ac.uk