We have a selection of demonstrations, activities and lectures for any visiting school, some of which are available off campus and directly in your classroom.

We seek to encourage engagement with the physical sciences by encouraging students to "get involved" through activities designed to introduce how physics and astronomy form the day-to-day world around us.

Our lectures aim to give a broad introduction and understanding of a selection of topics related to cutting edge research.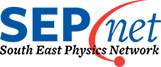 Activities

---

Tailored days

---

Schools lab

---

Live Lectures

---

Recorded Talks

---

Teacher Materials

---