Our students and staff consistently push the boundaries of their fields through new discoveries, and have their achievements recognised with awards and project prizes.

Recent Achievements
MSc graduate Kevin Doty co-leads ground-breaking research on sustainable graphene sensors at Sussex.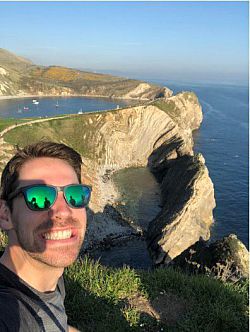 MSc graduate, Kevin Doty, has co-led ground-breaking research that could revolutionize the way we approach plastic waste. Along with a group of scientists, Kevin has published a paper in a high impact journal, detailing their work on creating sustainable graphene sensing materials using food-grade, biodegradable, algae-based plastic.
The paper, titled 'Food-inspired, high sensitivity piezoresistive graphene hydrogels', was recently published in ACS Sustainable Chemistry & Engineering.
Kevin's contributions to the project are particularly impressive. He has demonstrated that students can make significant research impacts and pursue meaningful careers in scientific research. Their research presents a cost-effective, environmentally sound, and biodegradable alternative to commonly researched, unsustainable rubber-based materials, in-line with the UK's 2050 net zero goal on plastic waste.
Kevin said: "I taught chemistry previously, but decided I wanted to learn more about nanoscience. My gamble paid off, and not only did I enjoy it more than I expected, but I also ended up with an opportunity to utilize the information I had learned to work on a novel idea that has evolved into a first author publication as an MSc student.
"Learning about nanoscience and getting published showed me just how varied and multidisciplinary the field is – any science background can bring knowledge and apply it to this field in a unique way. This has led to further studies in a PhD studentship, opening up an all new career path I could not have previously considered."
Sussex is a champion for sustainable research and Kevin's success is a testament to the university's commitment to fostering real research impact. Kevin is now a PhD student in Materials Physics research group.
Find out more about how a seaweed second skin could transform health and fitness sensor tech.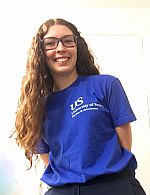 Second year Astrophysics student Giulia Locati has accepted a prestigious STFC science communication placement in particle physics at Rutherford Appleton Laboratory (RAL).
"
!'ve always been fascinated by what's beyond our little planet from a young age, going many times with my parents to an astronomical centre near my city to discover the evolution and secrets of the Universe.
So much of the cosmos is unknown and being able to apply my knowledge to study celestial objects and their phenomena is incredible.

A lot of people, especially women, find studying STEM subjects something only for extremely intelligent teenagers. I'm excited about sharing my passion and knowledge in science with the general public, promoting research and discoveries, from the largest astronomical scales to the tiniest constituents of matter of this world-leading science organization!"
Jacob Dunningham, Professor of Physics and Deputy Director of the Sussex Centre for Quantum Technologies was recently involved as a science advisor with an action sci-fi film 'Infinite' made by Paramount Pictures, starring Mark Wahlberg.
His character, Evan McCauley, is beset by memories of places that he's never visited and abilities he can't explain. Diagnosed with Schizophrenia and heading for a breakdown, Evan is visited by the Infinites, a mysterious group that explain to him that his memories are from his multiple past lives and contain secrets that he must work with the Infinites to unlock and resolve. The situation turns deadly and the action begins when Evan meets the Nihilists, a breakaway group of Infinites who believe that reincarnation is a curse which can only be broken by destroying humanity.
Evan does battle with the Nihilists using skills from his previous lives – including quantum physics. As Jacob explains: "The idea of there being multiple versions of ourselves in parallel universes is closely related to the many worlds interpretation of quantum physics and connected with the work being done here at Sussex to develop a range of new quantum technologies.
In the film, Evan scribbles complex equations over the walls of his apartment as he tries to understand what is going on – these come from Jacob's research at Sussex. A textbook written by Jacob and used to teach a module in Atomic Physics can also be seen in Evan's apartment.
Read more about Jacob's involvement in Infinite
.