University news
University of Sussex Business School raises the flag to support the UN SDG campaign 2023
By: Serena Mitchell
Last updated: Monday, 25 September 2023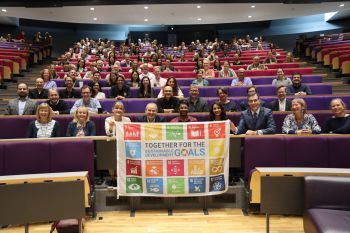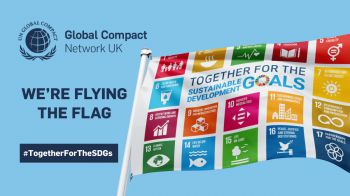 Today, 25 September 2023, marks the eighth anniversary of the adoption of the UN Sustainable Development Goals (SDGs). The University of Sussex Business School is delighted to raise the flag in support of the campaign to raise awareness of the SDGs.
As a member of the UN Global Compact and the Principles of Responsible Management Education (PRME) programme, the Business School has embedded the SDGs across its curriculum and research programmes. We are proud to be one of 500 institutions across the UK working together for the SDGs.
Professor Steven McGuire, Dean of the University of Sussex Business School said: "Social responsibility, ethical practice and sustainability are at the heart of the University of Sussex Business School. We care about improving outcomes for businesses and other organisations for the benefit of society. Through our membership of the United Nations Global Compact, we are working towards creating a sustainable and inclusive global economy that delivers lasting benefits to people, communities, and markets. We are delighted to support this year's flag campaign."
The 17 SDGs call for worldwide collaboration between governments, businesses, and civil society to deliver a powerful vision for improving our world by 2030. They are the blueprint for a better world and the framework to save humanity and our planet. The SDGs set out targets to realise the human rights of all and to achieve gender equality and the empowerment of all women and girls, eradicate poverty, combat catastrophic climate change, and protect our natural environment.
We hope that by raising our SDG Flag, UK companies, civil society, educational centres, and government organisations alike will join us in showing their commitment to the Global Goals and the action that they're taking to combat major challenges.