University news
Recent University of Sussex graduate signs to US record label
By: Tom Walters
Last updated: Thursday, 31 August 2023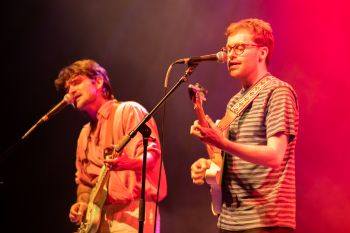 A University of Sussex student is celebrating again this summer, after being signed by a reputable US record label.
Sam Thrussell, who graduated with a BA in Music this summer, has been making waves in the music industry with his band Dutch Criminal Record, and they have now been signed by the reputable US record company, Antifragile Music.
The record deal will see the release of an EP, set to launch this Autumn, followed by an eagerly anticipated album scheduled for 2024, and is also expected to include a support offering for the band's US tour, a market where they have already built up a loyal fanbase.
Dutch Criminal Record, have already enjoyed a seriously packed touring schedule, with sold out shows and festival appearances, including a stint at indie spectacular, SXSW. The 'indie surf band', who are from Portsmouth, have also utilised social media to build up a partisan following, with over 500,000 engaged followers on TikTok.

Sam Thrussell, said of the band's success:
"It definitely hasn't been out of the blue; it's a moment we'd been building to over the last few years. We've been busy touring including SXSW in Austin, Texas, The Great Escape, Ynot Festival, Stag & Dagger to name a few, as well as supporting Sea Girls across Europe in 2022, but it was a good feeling to have secured a record deal.
"Personally, I see getting a record deal as a means rather than an end, so the subsequent debut album release will probably be a bigger moment! But if I could have told my 16-year-old self I'd sign a record deal one day he'd be over the moon! So, in that sense it is a life goal fulfilled."
The band's busy touring schedule culminated in the band achieving exposure to some of key industry personnel, including, eventually, AntiFragile Music themselves.
For Sam, despite the record deal, his Sussex career doesn't stop there, as he has been accepted on to study for a Masters in Music and Sonic Media, starting this September. This will extend his time at Sussex, with the multi-instrumentalist already winning the prestigious Sir Thomas Beecham Scholarship in 2020/21 for outstanding work in his first year.
Dr Mimi Haddon, Senior Lecturer in Music and Joint Head of Music at the University of Sussex, said:
We in the Music Department are so proud of Sam. He's been such a vital and thoughtful member of our cohort since day one. Our members of staff are fans of Dutch Criminal Record and have seen them play live in Brighton. We wish Sam and his band all the best, and we're excited for news about what happens next.