University news
University of Sussex named number one in the world for Development Studies for seventh consecutive year
Posted on behalf of: Lauren Ellis
Last updated: Wednesday, 22 March 2023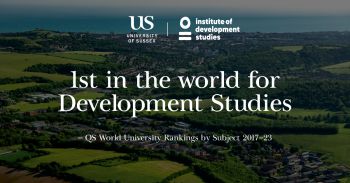 For the seventh consecutive year, the University of Sussex together with the Institute of Development Studies, has today (Wednesday 22 March) been ranked as the best in the world for Development Studies, in the QS World University Rankings by Subject. The University of Sussex is one of only nine UK universities which are ranked first in the world for a subject.
In addition to taking the top spot in Development Studies, the University of Sussex also has five further subject entries in the top 100, globally. These are Sociology (ranked 47), Social Policy & Administration (51-100), Geography (51-100), Psychology (ranked 97=) and English Language & Literature (ranked 83=).
The University also has 12 subject areas ranked in the UK's top 20. That's up from ten in last year's rankings. This includes Sociology, which has moved up five places since last year and both Psychology and Physics & Astronomy, which have moved up two places.
The QS World University Rankings by Subject are compiled annually to help prospective students identify the leading universities in a particular subject. Research citations, along with the results of major global surveys of employers and academics, are used to rank universities. They cover a total of 54 disciplines, grouped into five broad subject areas.
"For Development Studies at Sussex once again to be ranked number one in the world is a huge achievement. Sussex is radically global in orientation and has pioneered interdisciplinarity since our foundation, and we strive to make a positive contribution to the world through our research and education. All of these are core to our expertise in Development Studies. We are also deeply committed to supporting the next generation of development practitioners and scholars in tackling the inequalities, injustices and environmental challenges that face communities around the world. This recognition is a credit to our dedicated and innovative academic staff, as well as to our research partners around the world.
"To also have a wide range of other subjects ranked highly both in the UK and internationally recognises Sussex's growing strengths as a research-intensive university that is breaking new ground across the disciplines."
Development Studies addresses some of the most pressing issues facing humanity. From inequality to sustainability and security, students of Development Studies learn how to tackle these problems.
"The fact that we have been ranked as number one in the world for seven consecutive years is a wonderful recognition of our continued commitment to excellent teaching and research for a fairer, safer, more sustainable and inclusive world. We don't necessarily have all of the answers, but we will keep asking the difficult questions in ways that are both challenging and collaborative."
"To be ranked first for Development Studies for the seventh year is a fantastic achievement and it is a credit to our unique research and teaching relationships between Sussex, IDS, our staff, students, alumni and partners around the world. 
"As we face rapid change and urgent complex global challenges we will keep working collaboratively to build the skills and knowledge needed for more equitable and sustainable development globally."
The full list of UK Top 20 subjects at the University are:
Anthropology (12=)

Communications and Media Studies (16=)
Development Studies (1)

Economics and Econometrics (16)

Environmental Sciences (20=)

Geography (16) [51-100]

History (20=)
Physics & Astronomy (20=)

Politics & International Studies (18)

Psychology (17=) [97]

Sociology (8) [47]

Social Policy & Administration (12=) [51-100]
* () denotes UK ranking [] denotes world ranking
The number one ranking is based on the assessment of the quality, impact and range of international development research and courses offered by the University's School of Global Studies, the University of Sussex Business School, Sussex Sustainability Research Programme (SSRP), School of Media, Arts and Humanities, Centre for International Education (CIE), and the University's partner the Institute of Development Studies (IDS).