University news
University of Sussex appoints new Chaplain
Posted on behalf of: Lauren Ellis
Last updated: Tuesday, 7 March 2023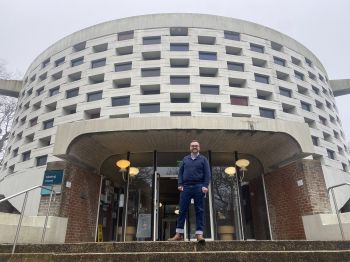 The University of Sussex has appointed James Croft as the new University Chaplain and Lead Faith Advisor, following the recent retirement of Reverend Chris McDermott. Starting his role in February 2023, James is also the University's first Humanist Chaplain.
James comes to Sussex from St. Louis, Missouri, where he led a large Humanist congregation. Prior to this, he was an interdisciplinary researcher with a focus on the philosophy of Human Development and the role of the arts in learning, and completed his Master's and Doctoral degrees at Harvard University, where he was also a Teaching Fellow.

Professor David Ruebain, Pro Vice Chancellor of Culture, Equality and Inclusion at the University of Sussex says:
"We are delighted to have appointed James as our University Chaplain and Lead Faith Advisor. We are committed to supporting the diversity of religions and beliefs of staff and students and James' experience and extensive background in pastoral care and leadership of a large congregation will be a huge benefit to our community.
"While James' appointment was based on his ability and not his beliefs, we are pleased that he will bring experience that will complement our other Chaplains, who represent a range of faiths and beliefs, including the Anglican Church, Catholic Church, Methodist Church, United Reformed Church, Christian Missionary Alliance, Quaker, Buddhism, Orthodox, Judaism (Orthodox and Liberal) and Islam."
Taking on this role at the Universityof Sussex, James looks forward to connecting with the Sussex community and promoting the Chaplaincy and Meeting House as a welcoming space for all.
James explains:
"I am delighted to take up my new role at the University and I'm incredibly excited to engage with the Sussex community, which encompasses people from all walks of life. I see my role as listening to people's beliefs and understanding how they are challenging the way that they see the world, and responding to that.
"I look forward to working with the other chaplains and meeting with as many staff and students as I can."