University news
The Rez season 2: the first podcast to be accredited for teaching in schools
By: Tom Walters
Last updated: Tuesday, 1 November 2022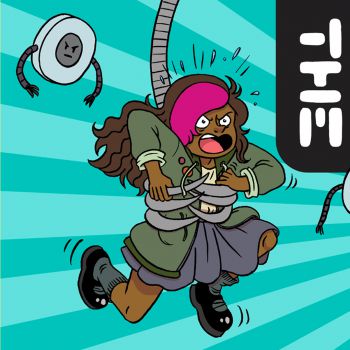 Acclaimed all-ages podcast The Rez, a sci-fi adventure co-created by Martin Spinelli, a professor in podcasting and creative media at the University of Sussex, is debuting its Season Two with an all-female writing team.
Designed as a laugh-out-loud balm for worried kids and underpinned by University of Sussex research into kindness, the award-winning British audio drama combines dynamic storytelling, immersive sound design, top actors, and the voices of real young people, shining a light on the importance of adolescent wellbeing. It is also the first podcast to be accredited for teaching in schools.
The latest series for The Rez has this month received ground-breaking accreditation from the PSHE Association which allows its use in schools as part of the personal, social, health and economic (PSHE) curriculum. Within a week of accreditation, over 100 schools had asked about integrating the podcast into their lessons, and the production team are having to do a second production run of the accompanying comic after initial stocks ran out.
The first series of the podcast adventure was released in the immediate aftermath of the Covid pandemic, with the effects of multiple lockdowns triggering mental health crises for many young people. The Rez, released in the summer of 2021, came at a crucial time, with the critically important mission to support mental wellness in an immersive and entertaining way.
Season One of The Rez won Gold in the 2021 Audio Production Awards for Best Entertainment Producer, and Silver for Best Comedy; it was nominated in the 2022 Webby Awards for Best Kids & Family Podcast, and in the British Podcast Awards for Most Creative Podcast, and continues to be downloaded tens of thousands of times each month.
Professor Martin Spinelli, said:
"There is clearly a tremendous need for fun resources built on real research into kindness, resilience and children's media diets. I could not be happier that our work is having such a positive impact on adolescent emotional wellbeing.
"Our Webby nomination earlier this year gave The Rez a huge boost in profile just in time for the launch of Season 2. We are delighted to have the same A-list cast who worked with us on Season 1 and have been working with our US distributor (Gen-Z Media) to spread the word about how fun and valuable The Rez is. Season 1 saw us crack the Top 20 on the podcast charts in the US and the UK. This time around I expect to see us in the Top 10. We are all delighted with the impact this project is having."
Professor Robin Banerjee, Head of Psychology at Sussex, said about the project:
"Stories that communicate the value of kindness for building resilience in young people are more important than ever. Research shows that kindness involves not just helpful or comforting behaviour, but also a prosocial motivation – that is, an attitude of care and concern for others and a real desire to bring about positive changes in others' lives.
"We know from our own research studies in the CRESS lab that the kindnesses we give to others, however small or large, are a foundation for making and keeping positive relationships. And these relationships in turn serve as the bedrock of good mental health and wellbeing, enabling us to be resilient when times are stressful or challenging. Now, more than ever, we need stories like The Rez to shine a light on what really matters in young people's lives."
Set in a distant future, the podcast features two teenage friends, Preen and Sav, who try to outsmart the wicked A.I. (JEF) that runs their world. On the surface, the future looks shiny and bright, but Preen and Sav discover things are not as great as they appear when they find an old phone that allows them to communicate with the kids of the distant past - the kids of today - who introduce them to wild new ideas like "kindness" and owning your mistakes and offer insight into a world where technology wasn't the answer to everything. But when Preen and Sav try help people think and do for themselves, JEF will do anything to stop them.
Karl Queensborough (UK production of Hamilton), BAFTA-winner Emily Burnett (Hollyoaks), and Waterstones Children's Book Prize winner Nathan Bryon (Bloods) are the returning cast, alongside BAFTA-winning Best Actress Juliet Aubrey (The White Queen, Middlemarch) who plays JEF-LON, the new malevolent A.I. intent on keeping humanity under control. Joining the cast this season are Ciara Baxendale (Four Weddings and Funeral) and Tom Crowley (The Royals).