University news
The University has leading role in region's recovery from pandemic
By: Neil Vowles
Last updated: Thursday, 27 May 2021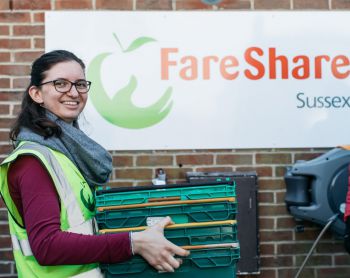 The University of Sussex is supporting Universities UK's economic and social recovery campaign #GettingResults to help people and businesses recover from the wide-ranging damage caused by the Covid-19 pandemic.
New research published today by Universities UK (UUK), 'Universities and the UK's economic recovery: an analysis of future impact', which was compiled by the National Centre for Entrepreneurship in Education (NCEE), predicts that over the next five years universities in the South East will:
Provide support to businesses and charities worth almost £2.4 billion
Give 8,000 years worth of upskilling and training to businesses and charities
Help 1,750 new businesses and charities to be formed
Train 18,000 nurses, 6,000 medics and 26,000 teachers
It comes as UUK launches #GettingResults – a campaign to put universities at the heart of the economic and social recovery – with a renewed commitment from universities to do even more to reach out to new partners locally and nationally and deliver even greater impact than currently estimated.
The University of Sussex is already supporting local employers in the region through its Covid-19 internship programme, which has seen 30 student interns support local businesses looking to bounce back from the impact of Covid-19 and frontline services helping those left most in need.
The skills of the University of Sussex graduates will also have an important role to play in the future success of businesses and sectors during the Covid-19 recovery process.
One recent success story is the continuing growth of Trim-It, which launched as a mobile app helping barbers to manage appointments and promotions, founded by Darren Tenkorang with the £10,000 prize he received as the University of Sussex Student Entrepreneur of the Year in 2016.
The initial idea had success, signing up more than 300 barbers, before pivoting to create a mobile barbershop service by renovating a van.
After raising money from a series of angel investors, the service was scaled up to seven mobile barbershops and 11 barbers who before lockdown were giving 65 haircuts a day.
The team has recently raised $1.1 million to scale out a franchise model for the service and the company has ambitions to scale up to 2,500 vans across Europe and the U.S.
Beth Parry, Fundraising and Communications Manager at FareShare Sussex, said: "FareShare Sussex were thrilled to benefit from the University of Sussex's internship scheme. To be able to provide paid work opportunities to new graduates is very rewarding to us and is in line with our mission to support people into work.
"The programme couldn't have come at a better time. The organisation has had to make huge adjustments to cope with the additional demand at a time when many of our volunteers had to go into isolation and we are also having to adjust our long-term strategies to account for a more uncertain future. This work is all vital to our continued success and we are extremely grateful to the university and their partners for making these internships possible."
A University of Sussex spokesperson said: "At the University of Sussex we believe our students, staff, researchers, and graduates have so much to offer. We are proud of their knowledge, skills and expertise and we look forward to seeing them help businesses and industries bounce back in the years to come. We must now make sure that we work closely with our local employers and partners so they are getting the most out of what our university can provide in this challenging process of recovery."
Professor Julia Buckingham CBE, Universities UK's President, said: "By working closely with their partners, including local government and employers, universities will play a vital role in the UK's post-Covid recovery. Together, they can contribute significantly to future economic success and improve lives. Moving forward it is important that employers fully take advantage of universities' support and develop productive relationships so the nation can bounce back stronger from the pandemic."