University news
Sussex awarded University of Sanctuary status
By: Stephanie Allen
Last updated: Monday, 1 June 2020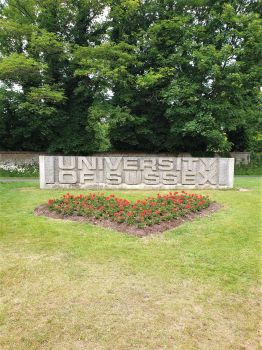 The University of Sussex has been awarded the title of University of Sanctuary, in recognition of its efforts to welcome and support forced migrants.
Sussex is one of only 15 universities in the UK to be made a University of Sanctuary, which is a status awarded by the nationwide Cities of Sanctuary project.
The award recognises and celebrates the good practice of UK universities welcoming sanctuary seekers into their communities and fostering a culture of welcome and inclusion for all.
In bestowing the title on Sussex, assessors particularly commended the University's scholarships for asylum seekers, our exceptional, world-leading research on sanctuary-related matters, a sector-leading Migration Law Clinic, close links with student, community and charity groups, and the strong commitment from the senior team.
Adam Tickell, Vice-Chancellor of the University of Sussex, said: "I'm immensely proud of the vital work carried out at Sussex to make a difference to sanctuary seekers and that this has been recognised by City of Sanctuary UK.
"My thanks to all the academic and professional services colleagues and students involved in securing this important status, in particular Dr Judith Townend in LPS and Paul Wiggins in the Widening Participation team, who were driving forces behind our application.
"The University of Sanctuary award reflects the Sussex tradition of being a place of both physical and intellectual refuge and an institution that strives to make the world a better place for those who flee persecution. In turn, we are greatly enriched by the students and scholars from migrant communities who make Sussex their home.
"We know that, despite the transformative power of education, only three per cent of young refugees globally have access to higher education. At Sussex, we will continue to strive to open up access to an academic future and provide a warm welcome to those who seek sanctuary."
The panel of assessors said: "The University has an ambitious and exciting three-year plan. It demonstrates not only a continuation and strengthening of current work, but also expansion into worthwhile and innovative activities."
The University of Sussex is home to the Sussex Centre for Migration Research and has a large number of researchers working on sanctuary-related issues. Research projects include: SOGICA, which follows the social and legal experiences of asylum seekers across Europe claiming international protection on the basis of their sexual orientation or gender identity; and Optimising Refugee Resettlement, which explores the experiences of resettled refugees four or more years after their arrival in the UK, employing peer researchers from resettled refugee communities as part of the research team.
Sussex has an active Student Action for Refugees (STAR) group, which has a committed history of campaigning for equal access to education for refugees and asylum seekers. Members of STAR and the wider Sussex student body work to forge links with local migrant charities to help refugees and asylum seekers become part of the local community.
Through the Migration Law Clinic, final year students in the Sussex Law School provide pro bono immigration and asylum legal advice to members of the public, under the supervision of an experienced human rights barrister.
In the coming months, the University hopes to establish a joint staff and student forum to discuss and co-ordinate future developments.