News article
Climate crisis calls for systemic change to finance: new report
Posted on behalf of: University of Sussex Business School
Last updated: Wednesday, 16 November 2022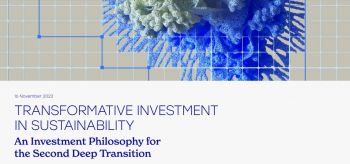 "When it comes to sustainable finance, we need to rip up the rule-book" urges the researcher of a new report which introduces 12 new actionable principles to guide investors towards sustainable investment. The report published today (Wednesday 16 November 2022) from the Deep Transitions research team at the University of Sussex and Utrecht University, along with the Global Investors Panel, addresses how the cascading crises of climate change, biodiversity loss and growing inequality requires tremendous levels of financial investment. However, the authors say, simply 'investing more' will not be sufficient.
The report, entitled "Transformative Investment Philosophy" combines the theoretical "Deep Transitions" framework with practical investing insights.
Deep transitions thinking is grounded in academic research. It explains how change unfolded in the past in order to learn how to shape the future. The first Deep Transition was the industrial revolution, which led to unprecedented economic growth. We are still feeling the impacts of its principles today.
Ed Steinmueller, Professor of Information Technology at the University of Sussex says:
"Avoiding environmental and social disaster requires fundamental systemic change. Previous theories of change were based on change directed by policy or stimulated by technology – neither of these are likely to create systemic change. The Deep Transitions approach focusses on changing the practices that perpetuate the existing system and what investor actions can catalyse these changes. When it comes to sustainable finance, we need to rip up the rule-book."
The report urges a new perspective, metrics and 12 actionable principles for investors to deploy. The principles are designed to catalyse a fresh thinking and accelerate change. These 12 principles assist with investment goal setting, strategy and process development; and accelerate the broader take-up and application of Deep Transitions thinking in the investment community and broader society.
According to Johan Schot, Founder and Academic Director of the University of Sussex's Transformative Innovation Policy Consortium (TIPC) and founder of the Deep Transitions research project, we must radically change the way we invest to avoid disaster and achieve fundamental change. Schot says:
"Environmental, Social and Governance (ESG) investment practices are yielding positive results, but tend to favour system optimisation over deeper and more fundamental changes. A new approach to investment is needed to amplify positive impact within multiple dynamic systems. Transformative Investment is an answer to this need."
Deep Transitions is an unprecedented interdisciplinary research project founded by Professor Johan Schot and coordinated by the Utrecht University Centre for Global Challenges and the University of Sussex Business School. The project is sponsored by James Anderson and Baillie Gifford.
In 2020, the Deep Transitions project brought together historians, sustainability transition scholars, economists, innovation experts and the Global Investors Panel, a cohort of 16 public and private investors from around the world, to co-create an investment philosophy for Transformative Investment in sustainability.
With the launch of the Transformative Investment Philosophy, the authors seek to mobilise and inspire public and private investors to recognise and activate their role as change agents for accelerating a deep transition towards sustainability.