News article
"In hard times, a kindness culture isn't a nice-to-have - it's essential."
By: Vicky Trendall Lane
Last updated: Friday, 11 November 2022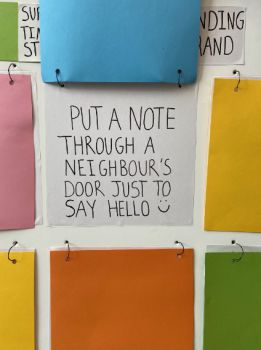 Ahead of World Kindness Day (Sunday 13 November), leading kindness experts from the University of Sussex's Centre for Research on Kindness are calling for a culture of kindness to be a top national priority. As the cost-of-living crisis, spiralling inflation and warnings of Covid and flu surges all set the scene for a tough winter, the Sussex academics are challenging leaders to show kindness and compassion.
Speaking at the world's largest online celebration of kindness, KindFest on Friday 11 November, the academics, Professor Robin Banerjee - dubbed the 'Professor of Kindness' - Dr Gillian Sandstrom, Senior Lecturer in the Psychology of Kindness, and Claudia Hammond, Visiting Professor for the Public Understanding of Psychology, will draw on findings from The Kindness Test. The huge public science project, which saw the University of Sussex partnering with the BBC, demonstrated that in hard times kindness is valued more than ever, with two thirds of people participating in the survey stating that the pandemic made people kinder.
Professor Robin Banerjee, Head of the School of Psychology at the University of Sussex and Founder of the Sussex Centre for Research on Kindness:
"It is easy to trivialise kindness as a soft attribute, perhaps even a sign of weakness, but especially in hard times, a kindness culture isn't a nice-to-have; it's essential. Indeed, findings from The Kindness Test, the world's largest study of kindness, give us a clear indication of how acts of kindness can help forge a sense of community, boost wellbeing, and fundamentally brighten someone's day when things might feel bleak and desperate. Especially when circumstances are difficult - the cost-of-living crisis being just one of the big global challenges we are facing - people are telling us how important it is to notice and celebrate kindness.
"We've also seen from Sussex research into crowd behaviour in emergencies that when in a crisis it is often a sense of community that comes to the fore. We see that contrary to the popular rhetoric of panic and selfish behaviour, crowds frequently act collaboratively to help one another.
"And we also know, from research drawn upon for our unique online course in Kindness and Wellbeing in the Workplace, that kind leadership equates to strong leadership, with positive impacts on the mental health and productivity of staff. As we go into what is already an incredibly difficult and worrying winter for many, I urge those who are involved in leading our country, our public services, and our communities to consider what it truly means to be compassionate and to work to ensure that a kindness culture is at the forefront of the behaviours and decision-making that will affect the lives of us all."
Dr Gillian Sandstrom is the Director of the Sussex Centre for Research into Kindness. Drawing on her research into the benefits of talking to strangers, Dr Sandstrom suggests practical ways in which we can overcome barriers to kindness:
"We now live in a culture of disconnection: people find it hard to make friends, and suffer emotionally and physically from a lack of belonging. We know that our news feeds are filled with gloomy stories about a national and global financial crisis, about a world at war and on fire, and that we continue to live in increasingly uncertain times, which can be very unsettling.
"Previous research carried out at Sussex showed that the warm glow of kindness is real - that enacting kindness not only benefits the recipient, but also the giver. And my research has shown the joys of talking to strangers, and regular kind interactions with people in your daily life, can have a tangible boost to wellbeing and a sense of community - which is arguably more important now than ever."
Participants in The Kindness Test reported two of the key barriers to kind acts as concerns about kindness being misinterpreted (65.9%) and not having enough time (57.5%). Dr Sandstrom has provided her top five tips for talking to strangers to overcome these barriers:
Instances where you naturally have communication with strangers, such as when ordering a coffee from your barista or receiving a parcel from a delivery driver, are an excellent starting point.


Demonstrating an interest in their life by asking a question about their day or week, and asking follow-up questions that show that you've listened and care about their answers can offer validation and make that person feel heard


In turn, revealing something about yourself or how you're feeling helps to build trust


Paying someone a genuine compliment is always a good strategy to brighten their day – it doesn't have to be about appearances, it could be about how well they make your coffee or how carefully they deliver your parcels.


If all else fails, reverting to the classic British strategy of commenting on the weather is a fail-safe ice-breaker!
Claudia Hammond, who is also a BBC Broadcaster and led The Kindness Test with Prof Banerjee, has a book out this week, on Thursday 10 November, called The Keys to Kindness, which draws on findings from The Kindness Test as well as other kindness research and her own kindness journey.
Hammond says:
"During the process of working on The Kindness Test and researching The Keys to Kindness, it's been enormously encouraging to see just how many kind acts people give, receive and notice every day. Even just reading some of the ways that people reported kindness being enacted in their lives in itself gave me that reported warm glow, and I encourage others to look out for kind acts. I wholeheartedly recommend writing a kindness journal to jot down everyday kindness that you've observed and participated. It's not always easy though, and life certainly isn't easy right now - I hope insight into what's stopping us from being even kinder might help us to find ways to boost kindness even more."