News article
Encourage EV manufacturers to produce low-cost models with tax breaks for a fair net zero transition
By: Neil Vowles
Last updated: Monday, 31 January 2022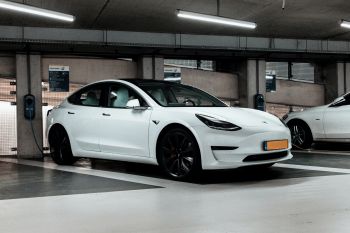 Investors in solar PV and electric vehicle manufacturers should be granted tax breaks incentivising them to produce lower-cost models of their products within the purchasing power of lower income households.
That's the recommendation of energy experts exploring the challenges of delivering a fair and just transition to a net zero society as detailed in a new research paper from the University of Sussex published today.
While the UK Government's newly published Net Zero Strategy proposes new requirements for car manufacturers to produce a greater proportion of clean vehicles every year, the academics at the University of Sussex, Johns Hopkins University and Indiana University want this to go further to ensure electric vehicles, and other low carbon technologies, are an affordable option for a much broader range of socio-economic groups.
The study, published today in Nature Human Behaviour, also recommends the widespread introduction of pay-as-you-go schemes, leasing programs and community/cooperative models to lower the financial burden of adopting low-carbon technologies for low- and moderate-income households.
The study also calls for wider use of climate and citizen assemblies to help ensure the active participation of a cross-section of society in shaping significant changes towards a net zero future. Specifically, targeted engagements with organizations working closely with women, the elderly or racially marginalized groups could help pre-empt unintended negative impacts of low-carbon technology, the academics recommended.
Benjamin K. Sovacool, Professor of Energy Policy in the Science Policy Research Unit (SPRU) at the University of Sussex Business School, said: "Emerging innovations are often seen as solutions that will benefit society while transforming various energy, building, or food systems. But low-carbon innovations are not automatically just, equitable or even green and our research shows how such technologies and behaviours can introduce new inequalities and reaffirm existing ones. At the very least, they can reflect unequal access to technologies and to incentives to adopt them and disparities in affordability. At the very worst, such innovations can sometimes disproportionately affect some groups while benefitting others, and thus serve to exacerbate inequality and injustice."
Peter Newell, Professor of International Relations at the University of Sussex, said: "While our research highlights the challenges and potential for damaging unintended consequences of adopting to low carbon technology, this should not be seen as a justification to abandon decarbonization or the promotion of sustainable behaviour. Instead, better awareness of these challenges compels policymakers to find more robust and nuanced ways of managing trade-offs and negative side-effects of any decarbonization transition strategy and including more social inclusion in their design and selection. The costs of not adopting such innovations are likely to be far, far greater than the costs of adopting them in a just and equitable manner."
The study also recommends that just transition compensation and assistance strategies should be expanded far beyond those currently considered for communities and individuals directly impacted by the phasing out of fossil fuel industries. The authors argue a more refined and nuanced analysis needs to be informed by intersectional approaches taking a more complete view of the social groups most vulnerable to the impact of the net zero transition.
The research goes on to recommend steps to protect future generations from being unfairly burdened with the net zero transition and limit the temptation of politicians to pass more costly and political contentious policies onto their successors or businesses to delay longer-term reform and in favour of immediate profit.
The authors advocate wider use of institutional innovations using indirect representation to advocate on behalf of social groups set to be impacted by current policy decisions in the future highlighting the good practices of the parliaments and assemblies which have ombudspeople for future generations to safeguard their interests.
Sanya Carley, Paul H. O'Neill Professor at the School of Public and Environmental Affairs at Indiana University, said: "Policymakers and solution innovators need to be fully aware that the risks of inequity abound in decarbonation pathways and behaviours. They can potentially arise both from misusing innovations, such as using toxic materials for the production of solar PV, but also when properly using them, for example embedding automobility into lifestyle choices with the use of EVs."
Jessica Fanzo, Bloomberg Distinguished Professor of Global Food & Agricultural Policy and Ethics at Johns Hopkins University, said: "We must come to craft policy and action that is more aware of tensions in equity across demographic, spatial, environmental, and temporal dimensions so they can be minimized or maybe even eliminated. Whether a future low-carbon society liberates and empowers vulnerable groups or threatens to further trap them into cycles of poverty and precarity will depend on the actions we take collectively in the next few decades."
In the study, the academics examined how four innovations in low-carbon technology and behaviour create complications and force trade-offs on different equity dimensions:
Improved cookstoves and heating: Equity risks and trade-offs include improved cookstoves can cement uneven patterns of work and domestic life and leave many women responsible for maintenance; and some improved cookstoves may still rely on fossil fuels/carbon-intensive electricity and thus contribute to deforestation or climate change.
Battery electric vehicles: Risks include further embedding private motorized travel to detriment of walking, active/public transport alternatives; charging point availability biased in favour of urban users; EV tax incentives currently favour wealthy households; conventional cars replaced by EVs in developed markets end up in other markets where they continue to pollute.
Household solar panels: Risks include requirements of owning a building or access to space to mount panels, take-up is shaped along race, space, income, and class divisions, panels are made with toxic materials and generate hazardous waste flows.
Food-sharing: Risks include strong urban and city bias to food sharing adoption, demographics tilted towards wealthier homes, larger homes, and homes with children, with higher rates of digital literacy; food sharing can lead to missorted waste or wasted mishandled food.