News article
Researcher collaborates with Planetary to raise awareness of rewilding to young people
By: Jessica Gowers
Last updated: Tuesday, 3 November 2020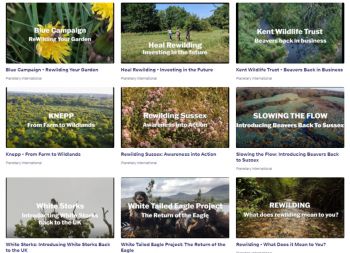 A University of Sussex researcher has collaborated with a new online eco hub to raise awareness of rewilding among young people through a series of 13 short videos.
Rewilding sees nature as an ally in helping to reverse the loss of biodiversity. It is all about helping nature recover so that it can look after itself and us more effectively. One way to do this is to reintroduce missing species to bring back nature to its diverse and dynamic best.
Dr Chris Sandom, Senior Lecturer in Biology at the University of Sussex, has been involved in a project aiming to raise awareness of, and engagement with, rewilding amongst 11 to 18 year olds through a series of 13 videos. Five videos explore what rewilding means to young people and eight explore rewilding projects in South East England.
Dr Sandom said: "This series of videos was inspired by the young conservationist Bella Lack, who raised the need to increase awareness of rewilding among her peers. We face big challenges, from biodiversity loss to the climate crisis, and rewilding could be an important part of the solution and so offers hope and a way forward. That's why it is so important we make efforts to engage with young people in a format that suits them.
"Rewilding in particular is a really positive and uplifting thing to be involved with; the rejuvenation of nature through the projects we have covered in the videos spreads a message of hope.
"A big thank you to everybody who contributed interviews and footage, Bella for highlighting the need, Tim Mein and Sam Pearce from Barford Productions for producing the videos, and Bob Edwards from Planetary for providing funding to make them possible."
Five of the videos share young people's views on: 1) What does rewilding mean? 2) Why should you care? 3) What are the benefits? 4) How does rewilding connect you with nature? 5) What does a wilder future look like?
Eight project focused videos cover a wide range of rewilding initiatives in the South of England. This includes one of the best-known rewilding projects in the UK; Knepp Wildland. This 1,400-hectare estate in West Sussex, which was once intensively farmed, has now been devoted to a pioneering project to restore nature.
Izzy Taylor, a recent Global Biodiversity Conservation MSc graduate, said: "I was inspired by a visit to Knepp which allowed me to look at the landscape through a different lens and see the potential for what Britain could look like in the future. Young people should absolutely get involved. It will benefit you, your mental wellbeing and it will benefit the Planet in so many ways."
Alongside a broad overview of the Knepp Wildland project, a separate video covers successful introduction of white storks to the area.
The videos also cover the reintroduction of white-tailed eagles to the south of England and beaver reintroduction trial at Ham Fen run by the Kent Wildlife Trust.
Heal Rewilding is another initiative covered in the video series; a charity with a youth advisory panel that is aiming to fundraise money to buy a plot of land and rewild it. While in the video on Blue Campaign, Betsy, a University of Sussex alumna, explains how anybody can set aside a section of their garden for wildlife.
Rewilding Sussex, of which Dr Sandom is the founder, is also featured in the series. This group of conservationists and scientists are looking to promote the idea of rewilding in Sussex with an aim to restore the local countryside to a more wild, natural and self-reliant state. The video features a Sussex masters graduate, a current second year ecology student and a PhD student discussing what the project means to them.
Planetary, which provided the funding for the video series, are a new, online platform, or eco hub. They provide an online space to meet like-minded people and organisations who possess a desire to do something constructive to help our planet's ecosystem.
For more information, watch the series of videos by visiting the Planetary website.