News article
Local NHS supported as Sussex students and staff respond to call for help
By: Stephanie Allen
Last updated: Wednesday, 29 April 2020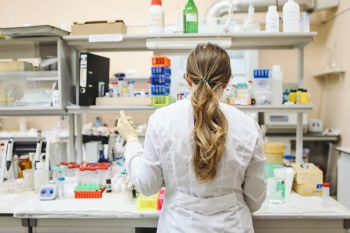 A team of staff and students have responded to a call for help to alleviate local NHS pressures during the covid-19 pandemic.
Dr Rhys Morgan, Lecturer in Biomedical Science at the University of Sussex, received a phenomenal response yesterday after sharing a call for help for colleagues at the NHS Diagnostics Labs at the Royal Sussex County Hospital.
16 staff and students will act as 'bank staff', helping the labs to process their normal diagnostic workload under staff shortages or whilst other staff are reallocated to Covid-19 testing.
Dr Rhys Morgan said: "I am in close contact with colleagues at Frontier Pathology at the Royal Sussex County Hospital because of our existing research and teaching links with them. I initially volunteered my services for a couple of hours perhaps on an evening or weekend to help out, but it became clear that they needed people who could commit 25-30 hours per week because of the initial training involved.
"I couldn't personally commit this time but I knew that we had an arsenal of highly skilled, compassionate and talented students and staff who are no longer at campus who might be able to help out. I put out that call by Twitter and email and the response was humbling."
The majority of students who offered support were final year undergraduates from medical neuroscience, biomedical science or pharmacy degrees, Masters and PhD students as well as research technicians.
Ayah El-Dakal, a final year biomedical science student, said: "I felt it would be a good idea to get involved assisting at the diagnostic labs at the hospital. I was aware of the pressures they are under due to the coronavirus outbreak and shortage struggles. I felt comfortable offering my support in an area I am relatively skilled in but also, living quite close to the hospital makes it quite convenient for minimising travel and distancing. I hope I can do all I can to help during these difficult times."
The assistance students and staff can offer will be invaluable to the NHS at a time of crisis. In addition to their normal clinical duties, the diagnostic labs are currently under pressure from the demand for Covid-19 testing, which is only set to increase in the coming weeks and months. This, combined with sickness and self-isolation measures, is stretching their workforce to the limit.
Dr Morgan said: "The NHS is potentially a career many would have considered post-degree so, a bit like the final-year medical students who are currently being fast-tracked onto wards across the country, our students have a skillset that can be exploited in diagnostic labs during this crisis. Also, the experience will benefit them greatly and who knows what opportunities could arise as a result? I'd encourage universities across the country to issue similar calls to their students/staff who could help stretched NHS labs in their local area."
During their time in the labs, staff and students are likely to be carrying out duties typical of an NHS biomedical scientist, such as the receipt and processing of biological samples, data acquisition/interpretation, equipment maintenance, quality control and data entry. For their help, they will be offered payment like normal employees, albeit at a lower band to reflect the fact they don't have Health Professions Council (HPC) registration yet.
Edlyn Boateng-Mensah, also a final-year biomedical student at Sussex, said: "This is a humanitarian crisis that affects the entirety of the world. My whole family work within the NHS and, as a student aspiring to be a healthcare professional myself, I just couldn't stand by and watch without trying to help.
"And given that my availability has increased due to my course moving online, anything I could do, however small, to contribute to helping relieve the pressure on the NHS I am more than happy to do."