News article
University of Sussex brings a splash of colour to Brighton & Hove Pride
Posted on behalf of: University of Sussex
Last updated: Friday, 3 August 2018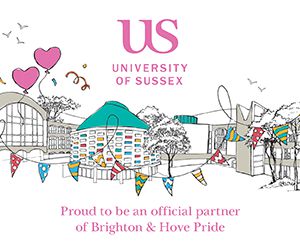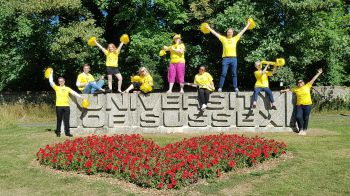 More than 80 University of Sussex students, staff and alumni will be celebrating Brighton & Hove Pride - one of the city's annual highlights - on Saturday (4 August) by taking part in the Pride Community Parade. Many others will be lining the route to watch the colourful spectacle.
Among the revellers will be Nazia Meem, a member of staff in the Students' Union, who is looking forward to being "a part of something exciting".
The parade is one of the biggest and brightest events in Brighton & Hove's diary, with over 300,000 people pouring onto the city's streets as an all-singing, all-dancing carnival of colour wends its way from the seafront to the main festival site in Preston Park.
Flamboyant, vibrant and colourful, the music, floats, bands, costumes and dancing combine to offer "a show-stopping spectacle not to be missed".
In fact, it's hard to be sure who's having more fun: the onlookers or those in the parade. Business and Management Studies undergraduate Erin Cook, for example, will be back for a second time: "I was part of the parade with Sussex last year and it was honestly one of the best days of my life."
Of course, the parade also carries a message of love, unity and support for the local and worldwide LGBTQ+ community.
Teresa Gagliano, a Research Fellow in the School of Life Sciences, is walking "to support LGBT community rights". And Blaike Lennon, trans and non binary officer in the Students' Union and an active member of the LGBTQ+ society at Sussex, says: "I want to show support and be surrounded by peers."
To celebrate the 40th anniversary of the iconic rainbow flag, this year's Brighton & Hove Pride theme is 'Colour My World'; look out for the University of Sussex contingent in the colour yellow, representing 'Sunlight'.
The parade is due to start at 11am from Hove Lawns and will travel through the city centre to Preston Park, where the Pride Festival will take place.
The Pride organisers say: "With 'Colour my World' as this year's theme, the parade promises to take on a uniquely global – and eye-poppingly technicolour – hue, so be sure to find yourself a good spot on the packed pavements from which to watch as the spectacle goes by."
The University is an official partner of Brighton & Hove Pride. Claire Annesley, Deputy Pro-Vice-Chancellor (Equality and Diversity), says: "We are immensely proud to be continuing our partnership with Brighton & Hove Pride for a second year.
"We're looking forward to being part once more of this spectacular and colourful showcase of the city's diverse community – which of course includes our students, staff and alumni."