News article
Business school changes name
By: James Hakner
Last updated: Tuesday, 3 July 2018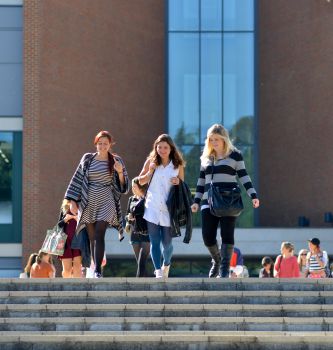 The School of Business, Management and Economics (BMEc) at the University of Sussex has changed its name to University of Sussex Business School with immediate effect.
The name change was finalised this week by Professor Steve McGuire, Head of School, following approval earlier this year by Council, the University's governing body, and Senate, the University's academic body.
The new name will allow the School to present a more coherent and recognisable image to the world, according to Professor McGuire. He said: "This reflects the School's strong reputation in the sector and will allow us to better compete in a challenging, international marketplace.
"The School is united in its mission to shape global issues in business, management and society, making an impact on policy, practice and people."
The proposal to change the name came about following an extensive period of market research and consultation.
Alongside the name change, the Department of Business and Management will be split into three departments from the beginning of the 2018/19 academic year. The new departments will be: Management; Accounting and Finance; and Marketing and Strategy. The Science Policy Research Unit (SPRU) and Economics will continue as distinct departments, making a total of five constituent departments.
The School's printed and digital materials will be rebranded over the coming weeks.
The School was recently ranked in the top 25 UK institutions for all four Complete University Guide subjects taught by the School: Accounting and Finance (14th), Business and Management (18th), Economics (23rd), Marketing (13th). Sussex is also ranked number one in the top 100 universities in the world for development studies, which is taught at Masters level, in the QS University World Rankings (2017).
Furthermore, at a time when securing research funding remains as competitive a process as ever, the School continues to outperform business schools across the UK in attracting funding for business and management research. In the latest report by the Chartered Association of Business Schools (CABS), Sussex is placed third-highest in the UK for annual research income in business and management.
The School is distinct from other business schools as it has an established reputation for expertise in innovation, science and technology as drivers of economic and social change, both in policy and management practice. Uniquely positioned within a university renowned for interdisciplinary work that challenges existing understandings and accepted views, the School is recognised for its research with high impact across government, business and civil society (as per the REF 2014 assessment).