News article
Sussex psychologist recognised for research impact
Posted on behalf of: School of Psychology
Last updated: Friday, 3 August 2018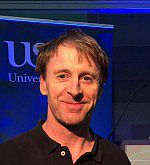 A University of Sussex psychologist has been recognised by the Economic and Social Research Council (ESRC) for the impact of his research on public policy.
Dr John Drury, Reader in Social Psychology, has been shortlisted for the annual ESRC Celebrating Impact Prize.
The award, now in its sixth year, is an opportunity to recognise and reward researchers such as Dr Drury – an expert on crowd psychology and public safety - whose work has made a real difference to society or the economy.
Dr Drury's ESRC-funded research on crowd resilience in emergencies has influenced more than 200 policymakers across government, who have used his findings to inform local preparations for dealing with emergencies.
Alongside this, his research on the role of social identities in shaping behaviour in emergencies has been used in training programmes for around 2,000 event safety stewards - many of them working at Old Trafford (Manchester United FC's ground) and Wembley stadium.
Previously, professionals involved in emergency preparedness had been concerned that crowds might panic or become helpless. These assumptions had been the basis of paternalistic 'command and control' policies.
Dr Drury's research showed that crowds have the psychological capacity to help themselves in emergencies, often without expert intervention. He found that mutual support was common among people in emergencies and disasters.
The management of crowds in an emergency, he argues, therefore needs to focus on facilitating shared identity in crowds, empowering them through inclusion and communication.
Dr Drury says of the impact of his research: "Practitioners such as stewards benefit because they have more accurate information about how crowds behave and that they should communicate with them.
"Crowds benefit because these changes to policy and practice mean greater public safety, better relationships with relevant authorities, and more enjoyable live events."
Recognising this, the ESRC has shortlisted Dr Drury for the category of Outstanding Impact in Public Policy in its 2018 Celebrating Impact Prize.
The winner of each category receives a prize of £10,000. Dr Drury will find out if he is among the winners on 20 June, when they will be announced during an awards ceremony at the Royal Society in London.