News article
New play tells the stories of British Asian families displaced by partition
By: Rose Tremlett
Last updated: Tuesday, 15 May 2018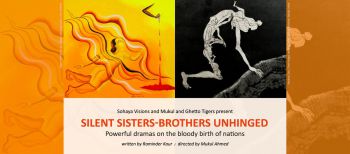 A new play being performed this weekend tells the previously untold stories of women and families who migrated to England during the partition of India and Pakistan 70 years ago.
An academic from the University of Sussex has spent the last year interviewing British Asians in Brighton, Crawley and East London, compiling the oral histories of people who experienced partition in 1947 – a history that has previously been overlooked.
Raminder Kaur, Professor of Anthropology & Cultural Studies at the University of Sussex, says: "Until now, the main focus of scholars researching partition has been on those who remained in South Asia. I began to wonder why there was no focus on the histories of those South Asians who had migrated overseas. So, from 2016, I decided to interview them, and in the process collated stories, poetry and even songs from or about the period.
"I wanted to tell the stories of women affected by partition in particular, to try and view and understand history through the eyes of women. I think it's important to explore diverse perspectives and to give voice to multiple migrant realities – especially in the current political climate. As one research contributor put it: 'These are stories of pain. But we need these as well. Very much so.'"
Silent Sisters-Brothers Unhinged, produced by Sohaya Visions and Mukul and Ghetto Tigers, will be performed at Rich Mix London on 17 and 18 November, and at Crawley Hawth on 21 November. There will be a Q&A afterwards. Tickets are £8 or £5 concession.
The research and production was supported by Arts Council England, Tower Hamlets, the University of Sussex Asia Centre, Rich Mix, Brady Arts Centre, Crawley Hawth Theatre, Crawley Borough Coucil and British Asian communities.
The research and material for the play will also be showcased in an exhibition at the new Crawley Museum in April 2018.
Three families' stories from this research can be read at The Conversation.