News article
Robotic bees cause buzz at International Drone Day spectacle
By: James Hakner
Last updated: Wednesday, 11 May 2016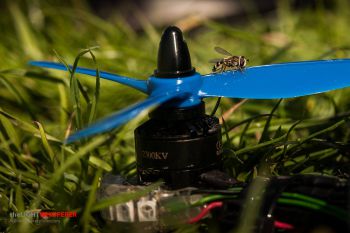 A University of Sussex project to create drones controlled by a bee's brain was presented in Brighton on Saturday (7 May) to enthusiasts celebrating International Drone Day.
More than 150 die-hard hobbyists and industry experts were gathered at Longhill School and Hidden Valley, near Saltdean, for a weekend of drone racing, displays and scientific discovery.
Professor Thomas Nowotny, from the University's School of Engineering and Informatics, went along to tell the crowd about bio-inspired robotics, including Sussex and Sheffield's Green Brain Project, which aims to create robots that think, sense and act like bees.
It forms part of a wider drive by scientists to artificially recreate the highly evolved engineering found throughout nature.
Professor Nowotny said: "In the Green Brain project, we build controllers for drones that work like insect brains.
"Bees are a miracle of engineering and, by recreating their navigation system, we're able to create some very powerful and intelligent technology."
Sussex is at the forefront of research into robotics, driverless drones and other autonomous systems and, from 2017, will teach the next generation of engineers in a new £10 million Computing, Robotics, Electronics and Mechatronics centre (CREaM).
A new Master's course in autonomous systems is recruiting now to coincide with the launch of the new centre. The degree is open to graduates from any discipline and is part-funded by a government scheme to fill the UK's engineering skills gap by attracting non-engineers into the industry.
Professor Nowotny was joined at the Mini Air Show 2016 by fellow Sussex academics Dr Luis Ponce-Cuspinera, who is leading on designing the new Master's, and Dr Paul Graham from the School of Life Sciences at the University.
The three-year, EPSRC-funded Green Brain project is coming to an end this autumn and the team is hoping to secure a further major grant to continue their work.
Watch a BBC Click video about the Sheffield-Sussex Green Brain Project: