News article
Virginia Woolf's engagement diaries come to the University of Sussex
By: Jacqui Bealing
Last updated: Thursday, 10 January 2013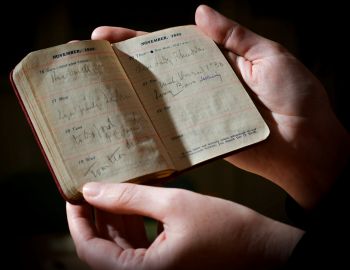 Personal details of Virginia Woolf's final years are now available to the public for the first time after the University of Sussex acquired eight of her engagement diaries at a Sotheby's auction.
Dated between 1930 and 1941, the small pocket diaries record in brief the Bloomsbury writer's meetings with other contemporary writers, including 'Morgan', better known as the novelist E M Forster, and 'Tom' (the poet T S Eliot), as well as visits to 'Charleston' (the home of her artist sister Vanessa Bell) and dates when she would be staying at her Sussex home, Monks House .
In some of the diaries there are also pencil lines through several dates and appointments, accompanied by the word 'Bed', indicating periods when Woolf's physical and mental health was fragile.
The last entry in her final diary of 1941 is for 28 March, written in pencil possibly by her husband Leonard Woolf, and simply states 'Died'. This was the date on which Woolf filled her pockets with stones and walked into the River Ouse near her Rodmell home.
The University bought the diaries to complement the Monks House Papers, which were donated to the University's Special Collections in 1972 and contain Woolf's correspondence from other writers, family, friends, admirers and publishers. They also include her reading notebooks, drafts of essays and typescripts of some of her works, proofed and corrected in her own hand.
Fiona Courage, Special Collections Manager, said: "The collection very much represents Woolf's 'everyday' life in the same way that the pocket engagement diaries do. As with the engagement diaries, our collections relate to Woolf as an individual rather than her public persona of novelist, reviewer and essayist.
"The activities recorded in these engagement diaries may not have found their way into her more detailed daily diaries, but are significant in terms of her daily life, her social circle and her physical and mental state. The diaries also complement a set of appointment diaries belonging to Leonard Woolf, and held within his papers at the University."
She added that these diaries have never been made publically available for research."By acquiring them we can now make them accessible to scholars, enthusiasts and the general public."
The University was able to raise the £60,000 necessary to buy the diaries with support from the V&A/MLA Purchase Grant Fund*, the Friends of the National Libraries and a number of individual donors.
Notes for editors
For more information about the Monks House Papers, see the University's Special Collections Archive.
University of Sussex Press office: Jacqui Bealing and Maggie Clune, Tel: 01273 678888, email: press@sussex.ac.uk
The V&A Purchase Grant Fund is a government fund that helps regional museums, record offices and specialist libraries in England and Wales to acquire objects relating to the arts, literature and history. It was established at the Victoria and Albert Museum (V&A) in 1881 and continues to be part of its nationwide work. The annual grants budget, currently £750,000, is provided by Arts Council England (ACE). Each year the Purchase Grant Fund considers some 200 applications and awards grants to around 100 organisations, enabling acquisitions of over £3 million to go ahead. Visit the website www.vam.av.uk/purchasegrantfund