News article
Artist's portrait puts former VCs back in the frame
By: Maggie Clune
Last updated: Thursday, 5 July 2012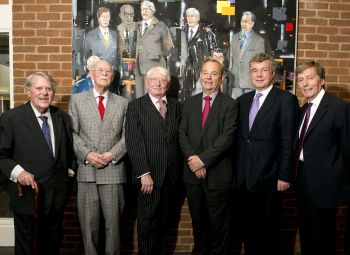 A portrait of the men who have led the University of Sussex in its first 50 years was unveiled yesterday (Wednesday 4 July) in the Library on campus.
The portrait of Sussex's Vice-Chancellors past and present is a gift from renowned artist Stephen Farthing RA – brother of the current Vice-Chancellor Michael Farthing – and will serve as a lasting legacy of the University's 50th anniversary celebrations, which have been taking place throughout 2011-12.
Sussex has had seven Vice-Chancellors, who are all depicted in the painting:
Lord (John) Fulton (who held the position from 1961 to 1967)
Lord (Asa) Briggs (1967–76)
Sir Denys Wilkinson (1976–87)
Sir Leslie Fielding (1987–92)
Professor Gordon Conway (1992–98)
Professor Alasdair Smith (1998–2007)
Professor Michael Farthing (2007–Present)
Apart from Sussex's first Vice-Chancellor Lord Fulton, who died in 1986, all were back on campus yesterday to join staff and students (current and former) in viewing the portrait and meeting its creator Mr Farthing.
All six living Vice-Chancellors were painted from sittings and Mr Farthing painted Lord Fulton using an existing portrait.
The canvas, which is 208 centimetres wide and 173 centimetres tall, is located at the front of the Library on the first floor, near a number of other works of art honouring people important to Sussex over its first 50 years. These include, most recently, a 2008 portrait of former Chancellor and long-term supporter of Sussex Lord (Richard) Attenborough.
A spray-painted mural inspired by student life at Sussex was earlier this year bought from local artist Mark Lingham and is now hanging in the Fulton building.
Notes for Editors
University of Sussex Press office contacts: Maggie Clune and Jacqui Bealing. Tel: +44 (0)1273 678 888 or email press@sussex.ac.uk
View our press releases