News article
First Fictions debut features an Ian Rankin premiere
By: Jacqui Bealing
Last updated: Tuesday, 17 January 2012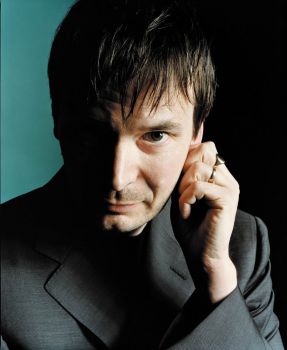 The University of Sussex has joined forces in its 50th anniversary year with independent publisher Myriad Editions for a new series of events designed to celebrate and champion first novels, past and present.

First Fictions is launched on Friday 20 January 2012 at the University's Falmer campus, near Brighton, with a weekend of talks and discussions featuring best-selling authors, literary critics, publishers and academics.

Among those helping to celebrate first works will be Ian Rankin, with an exclusive reading from his unpublished first novel. Other contributors include South African critic and novelist Elleke Boehmer; distinguished critic and literary editor, Suzi Feay; Bloomsbury editor-in-chief Alexandra Pringle; and winner of the Authors' Club Best First Novel Award, Jonathan Kemp
A panel chaired by COMICA director and curator Paul Gravett will announce the winner of Myriad's First Graphic Novel Competition. Judges include Ian Rankin, cartoonist Steve Bell, graphic novelists Bryan Talbot, Hannah Berry and Ed Hillyer (also a Myriad début novelist), and Myriad's graphics editor,Corinne Pearlman The winning author will be published by Myriad Editions in 2013.
Other events for 20-22 January include:

• Doppelganging authors,Nicholas Royle from Manchester (author of five novels, including Antwerp), who will be talking about his forthcoming novel, fittingly entitled First Novel, and Professor Nicholas Royle from the University of Sussex, whose first novel,Quilt, was published by Myriad last year.

• Bryan and Mary Talbot discussing their much-anticipated first graphic work together, Dotter of Her Father's Eyes – both a memoir of Mary's father, Joycean scholar James S Atherton, and a biography of Joyce's daughter Lucia.

• Virago's Alexandra Pringle in conversation about 'Publishing a First Novel' with British Palestinian début novelist Selma Dabbagh (Out of It).
First Fictions events will take place throughout the year in and around Brighton and the South-East. Events will range from literary salons,to speed-dates for new writers to meet agents and editors, to headline debates. Forthcoming events will feature authors including Kate Mosse, Jackie Kay, and Meg Rosoff.

Peter Boxall, Professor of English at the University of Sussex and co-director of First Fictions, says: "This unique collaboration between the University and Myriad Editions offers a wonderfully exciting forum in which new creative and critical possibilities can flourish. It not only gives a distinctive platform to emerging fictional voices, but it also allows for the investigation of a whole range of new directions both in the twenty-first century novel and in contemporary critical thought."

Candida Lacey, Myriad's Managing Director and First Fictions co-director, adds: "Working with the English Department and the University's creative writing students is very much at the heart of Myriad's publishing mission to nurture new writers and champion début novelists. First Fictions is a celebration of our relationship and, as part of this, we'll be developing a Quick Fictions app to showcase creative writing at Sussex in the new year."
Myriad Editions, whose fiction list has been developed with support from Arts Council England, has achieved notable success recently with Elizabeth Haynes' Amazon Best Book of 2011 Into the Darkest Corner.
Notes for editors
All events will take place at the Fulton Building at the University of Sussex. For information about events, how to buy tickets, and how to get there, see www.firstfictions.com
University of Sussex Press Office: Jacqui Bealing and Maggie Clune, 01273 678888, press@sussex.ac.uk
Myriad Editions publicity: Emma Dowson, 020 8543 7436 or 07726 321622 edowson@tiscali.co.uk