Two outstanding leaders to leave Sussex to take up new positions
By: James Hakner
Last updated: Thursday, 21 November 2019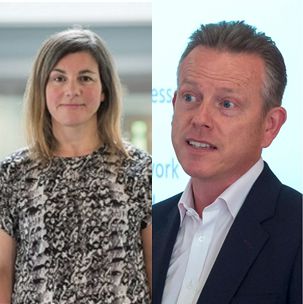 The University of Sussex will be saying goodbye to two of its outstanding senior leaders in the new year.
Professor Claire Annesley, Deputy Pro-Vice-Chancellor (Equalities and Diversity), and Professor Rorden Wilkinson, Deputy Pro-Vice-Chancellor (Education and Innovation), are both leaving Sussex to take up new positions at the University of New South Wales in Sydney, Australia.
Professor Annesley has been appointed as Dean of Arts and Social Sciences and Professor Wilkinson will take up the post of Pro-Vice-Chancellor for Education and the Student Experience.
Professor Adam Tickell, Vice-Chancellor, said: "For both Claire and Rorden, these are hugely exciting and richly deserved new roles and I'm sure everyone at the University will join me in wishing them all the very best for the future.
"I am delighted that they have been recognised for their achievements but, naturally, I will be very sorry to see them go."
Despite combining her role with being a leading researcher into women's representation in politics and, until 2018, Head of Politics, Professor Annesley has established the Equalities, Diversity and Inclusion (EDI) Unit, led the development of the University's EDI strategy Inclusive Sussex and the implementation of new policies on Dignity and Respect, flexible working, and relationships, as well as introducing Dignity Champions and the '10@10' initiative where the University Executive Group meets regularly with staff.
Professor Tickell said: "Appointing Claire to the newly created role of DPVC for equalities and diversity was one of the first, and best, decisions I made upon becoming Vice-Chancellor three years ago.
"Claire has been an unwavering servant of the University and an enthusiastic champion of driving forward the transformative change that we all knew Sussex needed. There is still further to go but few have done more than Claire to set in motion a University-wide culture change on an unprecedented scale."
Professor Annesley said: "It's been wonderful to work with so many amazing colleagues and students across the whole university to start making Sussex a more inclusive campus and I'd like to say thank you to everyone who has played a part in Inclusive Sussex. I am hugely proud of what we have been able to achieve in such a short space of time."
Since becoming DPVC for Education and Innovation in 2017, Professor Wilkinson has been highly successful in driving learning and student-experience reforms by taking advantage of new technologies and approaches to teaching. We have already seen exciting signs of things to come, with the roll-out this term of the innovative Panopto system for capturing and enhancing learning experiences, and the development of the Smart Sussex strategy with new technology trials set in motion.
Professor Tickell said: "As we all know, this is a hugely important area of work for the University as we develop a digital university truly fit for the 21st century.
"As we move forward, Rorden's tireless groundwork and energetic collaboration will provide us with the perfect springboard.
"Rorden has been a remarkable and tireless proponent of transformative teaching and I have no doubt he will make an excellent PVC for UNSW."
Professor Wilkinson said: "It has been a privilege to work with colleagues at Sussex. I have learnt a great deal and am proud of what we as a University have achieved. I will take many fond memories away with me and look forward to celebrating the successes that lie ahead for the University".
Both will take up their new roles early in 2020 and the University will now be beginning the difficult task of replacing them.