Professor Gurminder K Bhambra: newly elected Fellow of the British Academy
By: Harvey Atkinson
Last updated: Monday, 10 August 2020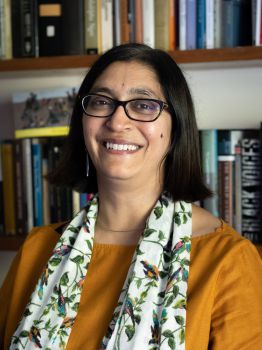 An esteemed Sussex academic and alumna who is recognised as an expert on the history and impact of European colonialism and understandings of modernity, Gurminder K Bhambra, Professor of Postcolonial and Decolonial Studies in the School of Global Studies, University of Sussex, has been elected a Fellow of the British Academy.
She joins over 1,400 leading minds that make up the UK's national academy for the humanities and social sciences. Her election recognises her outstanding contribution to the humanities and social sciences.
Professor Elizabeth Harrison, Head of School, Global Studies said "Gurminder is a leading figure in her field and is well respected amongst her peers. Her election to Fellow of the British Academy is a fitting recognition of her significant contribution to the humanities.
"Her students often describe her as a 'true academic activist'."
Professor Bhambra said: "I'm honoured to have been elected as a Fellow, being recognised in this way is also a recognition of the School of Global Studies itself.
"I hope this will provide me with greater opportunities to collaborate with researchers and communicate to wider audiences on the issues I research and care passionately about."
Professor Bhambra began her academic career by embarking on a undergraduate degree in History at Sussex and returned for her doctorate in Social and Political Thought. Her election to Fellow of the British Academy is the most recent recognition of her prestigious academic career.
She has held a range of senior academic positions as Professor of Sociology at the University of Warwick and also Guest Professor of Sociology and History at the Centre for Concurrences in Colonial and Postcolonial Studies, Linnaeus University, Sweden (2016-18). In March 2017, she was Visiting Professor at EHESS, Paris; for the academic year 2014-15, she was Visiting Fellow in the Department of Sociology, Princeton University and Visitor at the Institute for Advanced Study, Princeton. She has also held a Visiting Position at the Department of Sociology, University of Brasilia, Brazil and is affiliated with REMESO, Linköping University, Sweden.
She recently wrote in the NY Times on the toppling of the Edward Colston statue in Bristol and previously discussed teaching of the British Empire and the legacy of colonialism on Ed Miliband's podcast, Reasons to be Cheerful. In 2017, she also gave a TEDx Talk which explored the idea of Britain as a nation and challenged dominant Brexit narratives.
She is an accomplished academic author having published two books, Rethinking Modernity: Postcolonialism and the Sociological Imagination which won the 2008 BSA Philip Abrams Memorial Prize and Connected Sociologies; and co-edited five volumes and numerous articles.