The Role of Public-Private Collaborations in Strengthening Global Health Security
Health Security Threats
Protecting populations and economies against acute crossborder public health threats is a pressing political priority for countries around the world. Threats include new pandemics, bioterrorism and infectious diseases.
Such health threats are no longer viewed 'merely' as important international health issues but as threats to global security that can affect the stability of entire states and economies. Most recently, the European Commission has been developing a health security framework focusing on three core areas: prevention, preparedness and responses.
These attempts to strengthen health security in Europe and internationally will require governments to form effective and sustainable partnerships with numerous stakeholders – including the scientific, medical, legal, and public health communities, as well as private industry. Amongst the latter pharmaceutical companies have emerged as one of – if not the – most important actors in the quest to strengthen health security.
Pharmaceutical companies are crucial to:
• Develop new medicines and medical countermeasures to protect populations
• Ensure medicines are available in sufficient quantities, in the right places at the right time
• Provide scientific and technical expertise in order to manage supply chains and to ensure drug safety
Government-Industry Collaborations
Governments have formed collaborations with pharmaceutical companies to ensure that new medicines are developed, that they are provided in sufficient quantities, and are available in the places that they are needed. Yet public-private partnerships for health security also need to manage difficult policy-making tensions. On the one hand, the public sector has an interest in strengthening health security, and doing so in as cost-effective a manner as possible – especially given increased pressure on public finances. On the other hand, pharmaceutical companies are commercial businesses that need to remain profitable, and that are ultimately accountable to their shareholders.
The elevated role of pharmaceutical companies in health security policy thus generates a tension between the role of 'industry-as-partner' and 'industry-as-lobbyist' – as recently highlighted in the controversy around the World Health Organisation's handling of the 2009 influenza A (H1N1) pandemic. Further research on the role of pharmaceutical companies in public-private partnerships is therefore necessary to determine how these tensions might be responsibly managed in the future.
The Project
This project is funded by the European Research Council at the Centre for Global Health Policy, at the University of Sussex. This project opens up a new research agenda in the study of health security – one that focuses, for the first time, directly on pharmaceutical companies as core actors in health security policy. In so doing, the project will generate important new knowledge about the formation, workings, and effectiveness of public-private partnerships to enhance the resilience of populations and economies against a range of transnational health security threats.
The project aims to:
• Map the key public-private partnerships between governments and pharmaceutical companies that have recently formed to strengthen health security
• Analyse the political and commercial drivers behind these collaborations in a range of different geographical and institutional contexts
• Examine how governments are persuading pharmaceutical companies to focus on health security threats with limited commercial potential
• Look at how pharmaceutical companies are adapting their business models to respond to the health security agenda
• Trace the strategies through which government and non governmental actors are managing the tension between 'industry-as-lobbyist' and 'industry-as-partner'
• Recommend how the tensions between these roles might be responsibly managed
Case studies
Pandemic preparedness – Europe
Particular attention will be given to the role of the pharmaceutical sector in the promotion and provision of vaccines and antiviral medications for bird flu (H5N1) and swine flu (H1N1). It will also analyse the impact of such initiatives as advance purchase agreements, the Pandemic Influenza Preparedness Framework and international pandemic preparedness policy.
Infectious diseases in low and middle incomecountries (LMICs)
This case study will examine government-industry collaborations with regard to accessing quality medicines in LMICs, and focus specifically on collaborations that involve domestic pharmaceutical companies based in LMICs.
Bioterrorism – United States
The case study will focus on the role of Project BioShield and the Biomedical Advanced Research and Development Authority (BARDA) in developing new pharmaceutical products for the US Strategic National Stockpile (SNS).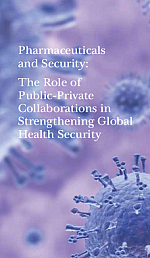 View our Pharmaceuticals and Security Leaflet [PDF 161.79KB]
Read a list of the project researcher's presentations related to this project here.
Read the project publications here.