AI for a Better World? – Summer of Research workshop explores key topics in AI and sustainability research
Posted on behalf of: Sussex Sustainability Research Programme, Sussex Digital Humanities Lab
Last updated: Wednesday, 16 August 2023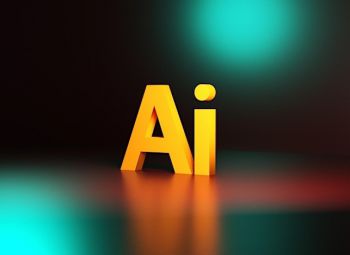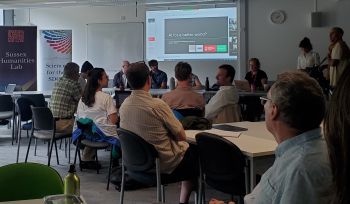 As Artificial Intelligence (AI) continues to advance, so do the challenges of finding sustainable solutions for people and the planet. At the intersection of both fields lie a range of interesting research opportunities and challenges. As part of the University of Sussex's first 'Summer of Research' celebrations, Sussex and IDS researchers with expertise in the fields of informatics, humanities, neuroscience, sustainability, law and policy explored the potential of using AI tech to help tackle global sustainability issues without amplifying existing inequalities.
To better understand the various potentials and pitfalls seen at the intersection of AI and sustainability, the 'AI for a Better World' event, facilitated by SHL co-Director and SSRP member Dr Alice Eldridge, kicked off with seven lightening talks from researchers across campus and across disciplines – ranging from current applications of AI to the Sustainable Development Goals (SDGs) to emerging innovations in trustworthy and interpretable AI before inviting all to think about the implications on and for sustainability:
Dr Jack Pay's (School of Engineering and Informatics) short presentation gave an insight into tracking illegal wildlife trade on the web using natural language processing and the need for improved machine learning tech in this area that allows the identification of (animal) images and other valuable data rather than just language analysis.
Dr Sharon Webb (School of Media, Arts and Humanities) approached 'AI for a Better World' from a feminist perspective warning that the tech world replicates systems of repression, including in the AI landscape where gender inequality clearly surfaces even at infancy level. We must therefore critically ask ourselves: 'Whose voice does AI strengthen?' 'Whose voice is being silenced?' And in relation to AI: 'who is writing the code?' 'who has the socio-political capital to use AI?' - and apply intersectional feminist interventions to break discriminatory patterns in technology.
While Dr Julie Weeds (School of Engineering and Informatics) looked at trustworthy AI in language models opening up with the question 'Chat GPT are you trustworthy?', Dr Ivor Simpson addressed the problematics of AI bias and uncertainty by proposing approaches to interpretable models in machine learning.
Coming from a neuroscience background, Prof Anil Seth (School of Engineering and Informatics) provided a glimpse into ethical AI and 'artificial consciousness' with the appeal to re-read Frankenstein. Challenging the perception of AI as a sentient being out of human control – a fear perpetuated by popular media and science fiction – involves dispelling misconceptions about AI consciousness (i.e. that it mimics but doesn't possess consciousness), ensuring ethical data handling, and 'treating AI as a useful tool rather than competition'.
Dr Becky Faith, leader of the IDS Digital and Tech cluster, presented their work on AI in development and humanitarian contexts, particularly focussing on agency and governance (who decides? who benefits?) and highlighting the importance to weaponise the SDGs for sustainable AI tech.
Finally, SSRP Director Prof Joe Alcamo's (School of Global Studies) lightening short talk addressed the relationship of AI with sustainable development. He proposed that all major AI projects and technologies be stress-tested against sustainability criteria. He also presented a sustainability assessment framework for AI that builds on existing assessment tools and could be trialled and tested here at Sussex. He suggested that Sussex, with its combination of sustainability and AI researchers, would be an ideal place for a major research activity on "Making AI Sustainable".
These seven short lightening talks provided a stimulating basis for a wide-ranging Q&A panel session, followed by lively networking and research sharing discussing further implications of and opportunities for AI and strategies for creating a better society for all. 
SHL co-Director and SSRP member Dr Alice Eldridge, who organised and chaired the event, highlights the importance of these informal, interdisciplinary networking events: "Existing and emerging methods in applied statistics (aka AI) has huge potential in addressing SDGs and associated issues, but similar potential to amplify existing inequalities. At Sussex we have long standing expertise in innovating AI methods, in working in applied sustainability contexts and in deep, critical thinking around the implications of technology in society, but we need to work together to ensure that future innovation is applied in ways that anticipate and ameliorate negative implications. These events enable colleagues to gain insights into complementary research, spark ideas and sow the seeds for collaborations for future research. It was fantastic to see such an enthusiastic response."
Having recently been awarded Centres of Excellence status, researchers and representatives from SHL, IDS, Sussex AI and SSRP are looking forward to continuing to collaborate on this vital topic and are excited to see what unique solutions this interdisciplinary approach can bring.
---
Are you an IDS or Sussex researcher keen to push for a vision where AI and sustainability objectives are in harmony? Are you interested in generating critical research conversations toward positive futures for AI in sustainability research?
If you would like to find out more about potential funding opportunities and/or help to run semi-regular AI workshops with support from and in collaboration with the Sussex Digital Humanities Lab, Sussex AI and Sussex Sustainability Research Programme for the next academic year 2023/2024, then please get in touch at ssrp@sussex.ac.uk or shl@sussex.ac.uk.