Our Alzheimers Society Doctoral Training Centre (see the press release under "NEWS") will support a total of eight PhD students over five years to research complementary aspects of understanding the role of ApoE in Alzheimer's disease with life span in the areas of psychology and biochemistry/neuroscience. The DTC plans, in outline, are shown below.
News
Robert Templaar (Alzheimer's society DTC Undergraduate internship student) won first prize at the Sussex University Junior research associate posters on October 5th.
DTC students participated in the "BrightSparks" event for the Brighton Science Festival on Feb 11th
The DTC students will be talking to the public about their research at the Alzheimer's society Memory walk on Sept 30th in Hove
Plans for DTC Sussex
Year 1
Year 2
Year 3
Year 4
Year 5
Year 6
Year 7
Year 8
4 PhD
Recruited for 2015 (Luca, Lucas, Rebecca and Jo)

1 PhD

(Sussex Match Funded) (Orla)

1 PhD

(Sussex Match Funded)

(Francesco)

2 PhD

(School Match Funded)

4 UG Internships

Started Summer 2015

2 UG Internships

Started Summer 2016
Engagement with public and research communities
PhD students to visit Memory Clinics
(Year 1)
ARUK South/AS mini symposium Sussex May 10th
Apolipoprotein E in AD
Public Open Days
Sussex
2016 and 2018
Scientific Symposium
2018
Sussex Partnership trust Older People's Mental Health annual Workshop
Annual Alzheimer's Society Conference
Annual Brighton Science Festival
Cafe Scientifique
Nerdnite
Big Bang Fair
Updates
Summer internships:
Summer 2015 : four areas of AD research (2 Psychology and 2 Life Sciences)
Supervised by:Sarah King, Louise Serpell, Jenny Rusted and George Kemenes
Summer 2016 :Two Alzheimer's disease/Sussex JRAs Summer 2016 were allocated to Mark Bagley and Sarah King. Further JRAs in the Alzheimer's research areas were awarded by Wellcome Trust (John Atack), Sussex University (Louise Serpell and Chris Bird)
Upcoming events
Previous events
Mini Symposium on ApoE in Health and Alzheimer's disease,
University of Sussex, 10th May 2016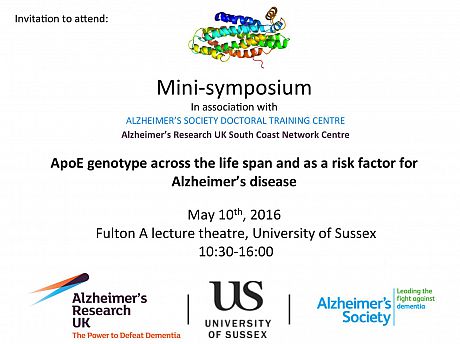 The mini-symposium was attended by 55 people and the event was described in the media on Meridian news on ITV and BBC radio south. The symposium was attended by scientists, students and members of the public who were provided with hands on activities demonstrating Alzheimer's research by the students. Click here for the article about the APOE Symposium on Prof Jenny Rusted's Blog.